'A Really Low Blow': Claudia Jordan Takes High Road Responding To Nene Leakes' Racial Jab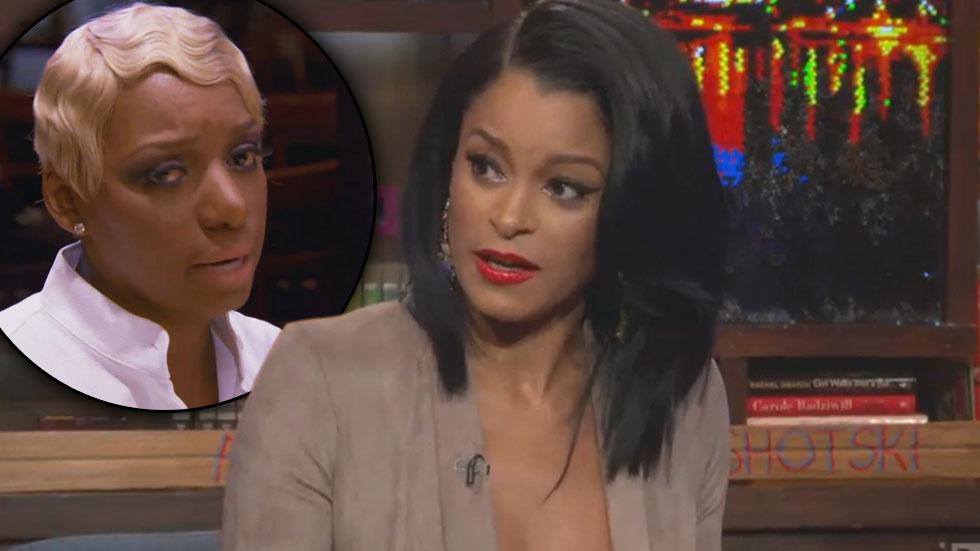 After her fiery exchange with NeNe Leakes on Sunday's edition of the Real Housewives of Atlanta, Claudia Jordan had the floor to air her grievances on Watch What Happens Live -- and held nothing back in doing so.
Jordan -- at the receiving end of racial and sexual taunts from the show's fiery focal point on Sunday's episode -- said that a racially-tinged slur NeNe used toward her (negative toward people of biracial backgrounds) was "a very low blow" to hurl in her direction.
Article continues below advertisement
Even in the heat of a Real Housewives battle, Claudia said she was surprised that NeNe went there.
"I spoke about the whole biracial thing on the show, and some people were tired of me talking about it, but those are the kind of incidents that its like, why is that a negative? That was a really low blow," she said. "I can't do anything about that if I want to it's part of who I am."
Watch the video on RadarOnline.com (WARNING: Content Is Explicit)
TV's premier pot-stirrer Andy Cohen asked Claudia, "You didn't seem to be very offended by anything she was saying -- did that offend you?"
The resilient Claudia, 41, took the high road, saying "NeNe is just running her mouth and as you can see, I won't start with her, but I will respond.
"I just kind of went into automatic pilot ... I just go into defense mode."
Jordan, looking stunning in a revealing outfit, said her Twitter "blew up" with support -- even from fans of NeNe, who felt her attitude had spiraled out-of-control.
Article continues below advertisement
"I think with this group, you have to get things off your chest right away and not talk about it behind each other's backs, because you're looked at as shady," she said. "So I think that was a mature thing to do, to confront her in front of everyone."
Watch What Happens Live airs Sundays thru Thursdays on Bravo at 11/10c.