'Scar-Trashion': Charlie Sheen Seethes In Anti-Kim Kardashian Twitter Tirade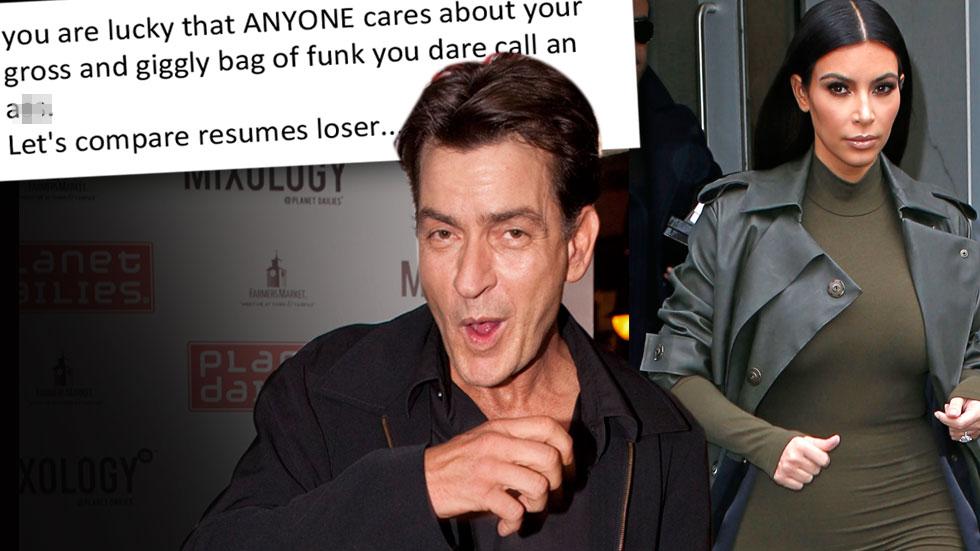 UPDATE: Charlie Sheen continues to rage toward Kim Kardashian, telling one outlet that the socialite is "a pox on the face of entertainment" with no "gratitude, "awareness" or "talent." The veteran actor said he learned of the starlet's snub last month from Soul Man star C. Thomas Howell, adding that few people were around when Kim blew off the request and asked her assistant to handle it. Neither Kim nor Kanye has addressed the harsh accusations and barbs as of Tuesday afternoon.
Article continues below advertisement
Kim Kardashian's found herself in a bad place to open 2015: On Charlie Sheen's bad side
The former Two and a Half Men star went on a Twitter rant at the reality TV queen's expense early Tuesday, after he claimed a pal told him that the socialite had snubbed a 6-year-old girl who asked for her autograph.
The Hollywood wildman said the child "cries about it every night before she goes to sleep," before lecturing the 34-year-old -- who he called "Scar-Trashion" -- about the responsibilities tied to being a celebrity.
Sheen wrote, "news flash - you suck! You are lucky that ANYONE cares about your gross and giggly bag of funk you dare call an a** ... Your public loves u. give something back or go f yourself."
The enraged actor, who's appeared in dozens of films and TV shows in a career spanning more than three decades, also flexed some celeb muscle toward the reality star, writing, "Let's compare resumes loser..."
The Anger Management star, 49, even managed to pepper Kim's husband Kanye West with a dig disguised as a tongue-in-cheek apology.
"My apologies to your hubby, great guy I'm sure, I hope his vision returns one day," Sheen wrote, ending his later-deleted diatribe with the hashtag, "#GiantAssZeroClass."
The Major League star last May ripped Rihanna in a similarly-nasty outburst after the R&B songstress blew him and his fiancée off when the parties crossed paths at a Southern California restaurant.