Justice For Casey! Kasem's Daughter Demands Stepmom Be Charged With Elder Abuse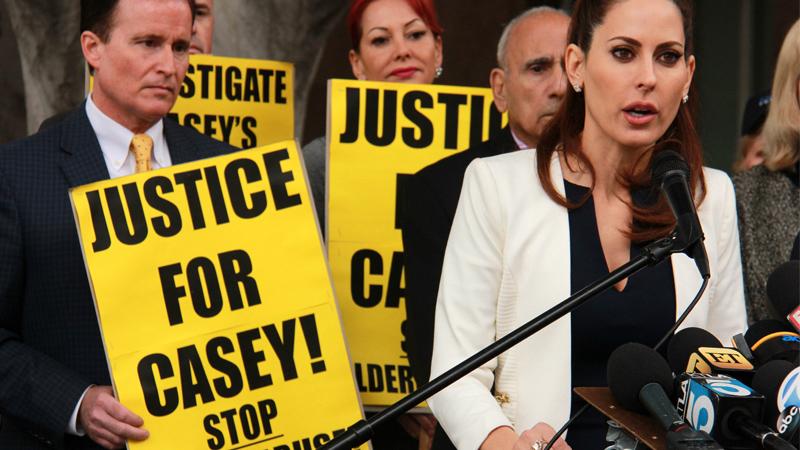 Casey Kasem's daughter stood on the courthouse steps in downtown L.A. Friday to demand that her stepmother be prosecuted for elder abuse in the death of the legendary radio host.
Kerri Kasem told gathered reporters that she and her siblings have evidence to show Jean Kasem's mistreatment of their elderly father caused his death last June. Cops launched an investigation shortly after his death, but according to his children, the case has since stalled.
Article continues below advertisement
She was backed by a dozen supporters holding signs that read "Justice For Casey! Stop Elder Abuse!"
The former American Top 40 host was 82 when he died in a Gig Harbor, Washington, hospital last June. His trip to Washington began when his wife checked him out of a Santa Monica, California, nursing home and allegedly took him on "a wild ride" last May. Kerri won control of her father's medical care in a court battle in the last days before his death.
Santa Monica police did acknowledge last year that they were looking into the circumstances of Kasem's care. Investigators, however, were never able to examine his remains since his wife shipped his body out of the United States to Norway, with a stop in Canada.
A private investigator for his children claimed in December that police had handed over their findings to the Los Angeles district attorney. But the DA now insists they do not have the case, and a olive spokesperson said the investigation is still ongoing.
Jean Kasem has denied all charges of wrongdoing.
Story developing.