Kardashian-Jenner Girls Rally Around Bruce As Public Interest In His Transformation Grows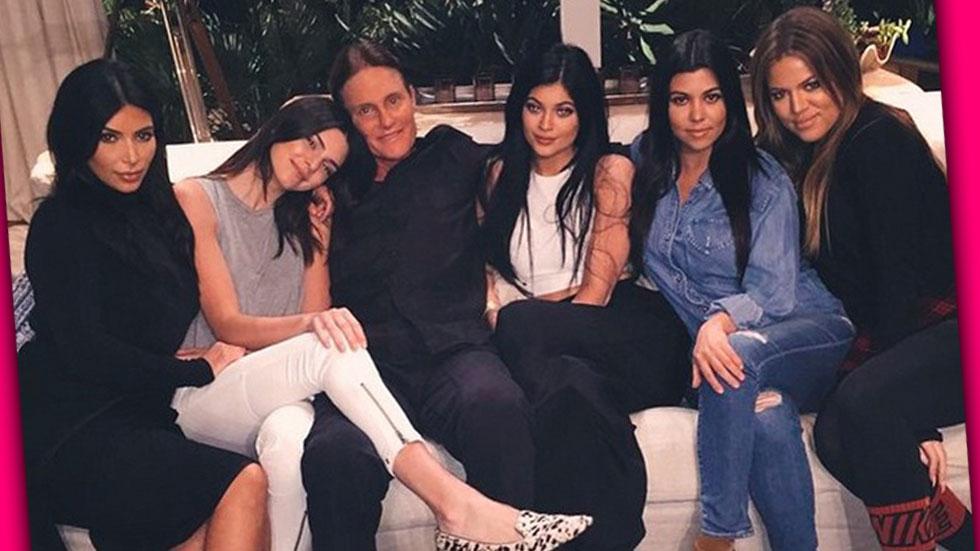 Bruce Jenner might be in the eye of a media firestorm amid rumors he's undergoing a gender transformation, but the Olympian was clearly in a good place Monday, receiving support from his famous daughters and stepdaughters in a shot Khloe Kardashian posted to her Instagram account.
The 65-year-old reality star Monday was flanked by Kim, Kourtney and Khloe Kardashian, as well as Kendall and Kylie Jenner, who reposted Khloe's image with the caption, "daddys girls."
Article continues below advertisement
The heartwarming shot comes in the wake of renewed scrutiny on his rumored transformation after a InTouch Weekly's controversial photoshop cover giving the TV dad the feminine features of Dynasty star Stephanie Beacham.
While the ladies presented a united front in support of Bruce, the gold medalist's sons have also had his back during the turbulent time. As RadarOnline.com previously reported, a family source said that both Brandon and Brody Jenner are "standing by their dad," who "is struggling with gender identity issues.
http://instagram.com/p/yDwy7ZBRhZ/?modal=true
"The magazine cover didn't come as a surprise to the brothers, but they both feel it's very insensitive to the LGBT community," the source said. "Both Brandon and Brody are both very strong supporters of LGBT people."
Bruce's transition, and the media's reactions, have also caused a stir among various celebrities: Outspoken Russell Brand called the scrutiny surrounding Bruce's changing form "bullying.
Article continues below advertisement
Watch the video on RadarOnline.com
"Stop -- Bruce Jenner is a human being -- if you want to learn more about transgender issues, look at GLAAD.org."
And Fashion Police's Kathy Griffin, in a tongue-in-cheek nod, said she was done covering the stylings of the Kardashian-Jenner beauties to focus on Bruce.
"If you think I give a sh*t about any of the Kardashians when I'm so busy with Bruce Jenner -- I no longer care about Kim or Kylie or 'Candle,' I don't care about any of them -- it's all Bruce, all the time.
"I'm on Bruce watch, and I support it if Bruce wants to be LGBTQA12345 … whatever Bruce wants to be."