'He Looks Lovelier Than I Do' – Stephanie Beacham Finds Bruce Jenner's Superimposed Magazine Cover 'Terribly Funny'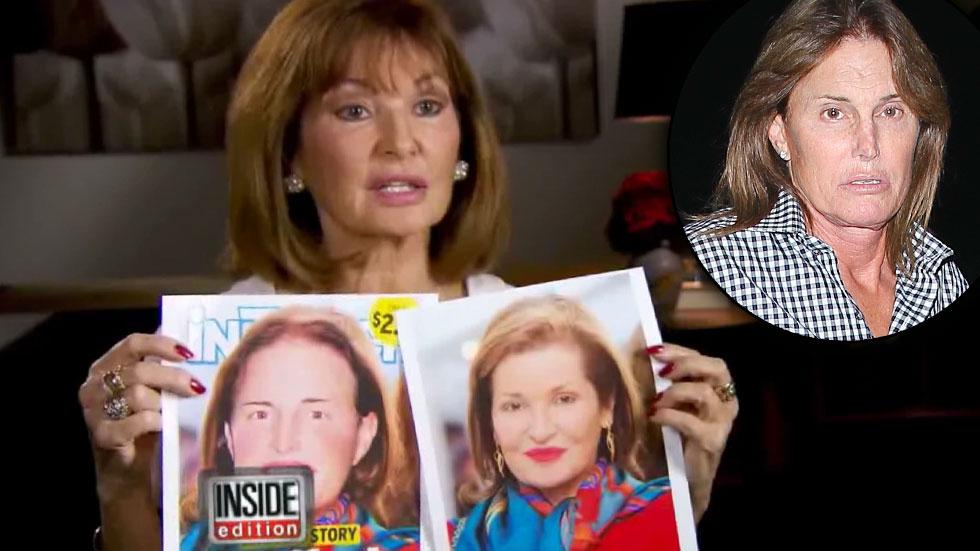 After InTouch Weekly photoshopped Dynasty star Stephanie Beacham's face with Bruce Jenner's on a now-infamous cover, the English actress sat down with Inside Edition to share her reaction.
"I speak no lie. Bruce Jenner looks far lovelier than I do there," she admitted to Inside Edition's Jim Moret.
The heavily doctored photo pictures Bruce wearing makeup and sporting Beacham's feminine scarf. The magazine also claimed that the 65-year old reality dad would soon come out as a transgender.
Article continues below advertisement
Though her face was thought to be a good fit for the former Olympian's faux-transgender debut, she laughed off any negativity.
"I think it's terribly funny," she said. "Things happen. How could I be cross? It's the silliest thing that's happened today."
Beacham did however suggest (in jest) that she should receive an apology gift from the magazine.
Meanwhile, Bruce Jenner's camp remains quiet on the subject, though reports claim that ex-wife Kris Jenner is outraged by the magazine release. Despite rumored disputes, the Kardashian "momager" seems ready to come to Jenner's defense.
Watch the Video on RadarOnline:
What do you make of InTouch Weekly's cover? Did they take things too far? Sound off in the comments below!