Exclusive
'Bats**t Crazy'? Woman Sues 'RHOC' Star Vicki Gunvalson's Boyfriend Brooks Ayers For Defamation Over Mistress Claims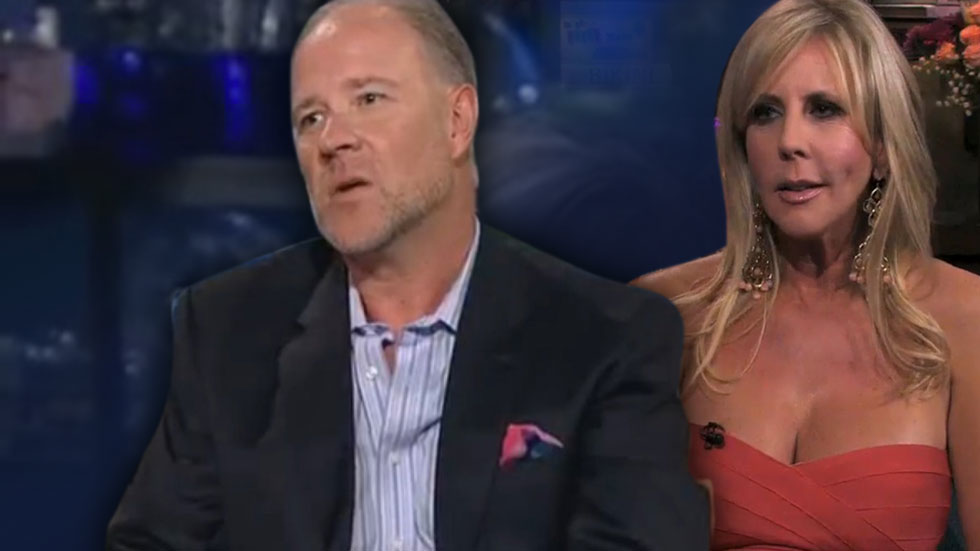 Cheating, shady business deals, and physical violence weren't enough to get Vicki Gunvalson to dump boyfriend Brooks Ayers once and for all. Now, just weeks after the on-again couple returned from a Mexican vacation, RadarOnline.com has learned that they've been rocked by another bombshell: Ayers is being sued by another woman for defamation over claims she was a mistress!
Article continues below advertisement
Ayers and Gunvalson have been tussling in court with Gunvalson's former business partner Robert Williamson III for months over claims she inadequately promoted their Vicki's Vodka line. In this latest round, a woman named Angeles Torres has filed documents insisting she was not Williamson's mistress, as Ayers has claimed, but just a friend he sent money to help her and her children.
Torres claims Ayers defamed in a series of text messages in which Ayers allegedly agreed with Williamson that "Torres was the CRAZIEST person" he had ever met and with Ayers calling her "bats—t crazy." Ayers also allegedly repeated Williamson's accusation that Torres was "involved in a scheme to extort, blackmail and/or kill Williamson."
She claims he caused her to suffer "loss of reputation, stress, anxiety" by allegedly defaming her in statements to Gunvalson and Orange County Sheriff's investigators concerning her "chastity as a woman, mental illness, and criminal activity."
The denial that she was Williamson's mistress is part of Torres' charge that Ayers stole the cash gifts sent to her.
"During their friendship, Williamson expressed a desire to take care of Torres and her children and, to that end, occasionally helped Torres and her children out financially by giving Torres money," Torres' claim says. Williamson "regularly enlisted Ayers' assistance in delivering money to Torres" she claims.
Article continues below advertisement
But not all of the money made it into Torres' bank account, she alleges. "Ayers retained or used portions to a number of the deposits Williamson intended for Torres, depriving Torres of the exclusive right thereto, which retention was wrongful and inconsistent with and in derogation of Torres' right to the full amount of the deposits" according to the documents.
Gunvalson appears to have the upper hand in the legal battle with Williamson, whose attorney abruptly quit the case this month citing "certain issues."