'I Put The Pills In The People!': Tina Fey & Amy Poehler Roast Bill Cosby With Rape Jokes At Golden Globes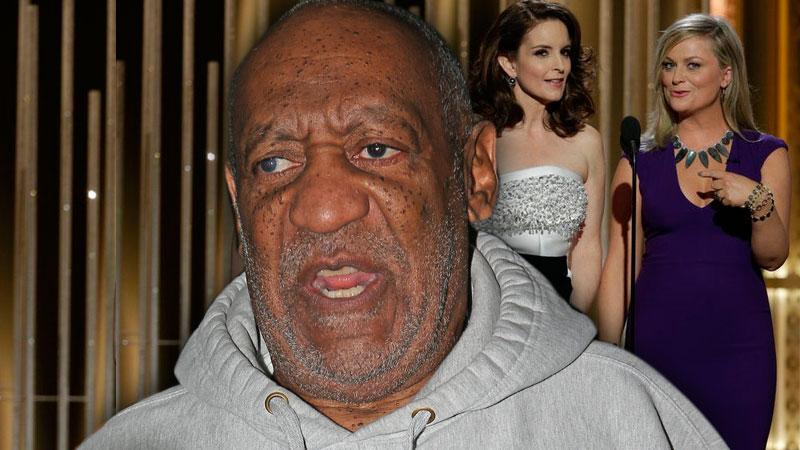 While much of Hollywood has stayed mum on the ongoing accusations against Bill Cosby, Golden Globes co-hosts Tina Fey and Amy Poehler took the bull by the horns Sunday, cracking a number of jokes at the comedy icon's expense.
Poehler said, "In 'Into the Woods, Cinderella runs from her prince, Rapunzel is thrown from a tower for her prince, and Sleeping Beauty just thought she was getting coffee with Bill Cosby!"
Article continues below advertisement
Fey joked, "I don't know if you guys saw this on the news today, but Bill Cosby has finally spoken out about the allegations against him," before launching into an impression of the embattled star of The Cosby Show.
Watch the video on RadarOnline.com
"Cosby admitted to a reporter, 'I put the pills in the people! The people didn't want the pills in them!'" the 30 Rock star joked, before Poehler cut her off.
"Tina, that's not right, that's not right," she said, before doing her own imitation of Cosby.
"It's more like, 'I got the pills in the bathroom and I put them in the people,'" the Parks and Recreation star said.
Fey earlier told Access Hollywood she intended to make the comedy figure a target in her monologue.
Cosby wasn't the only hot topic the comic duo tackled in hosting the show, as Sony's The Interview scandal also fell under their microscope.
"Tonight we celebrate all the great television shows we know and love, as well as all the movies that North Korea was OK with," Fey said.
Poehler added, "The biggest story in Hollywood this year was when North Korea threatened an attack if Sony Pictures released The Interview, forcing us all to pretend we wanted to see it."