Exclusive
Sugar Mama! Teresa Pays For Daughter's Latest Music Video After Fundraiser Fails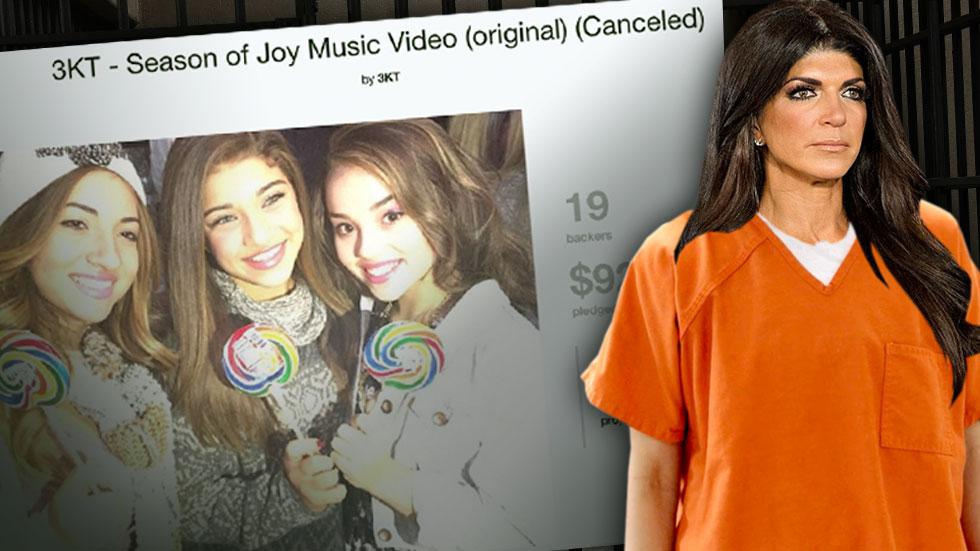 Gia Giudice's online fundraising campaign to raise money to shoot her girl band's second music video failed, but the 13-year-old aspiring star's mom, prison-bound Teresa Giudice, made sure the video got made anyway, RadarOnline.com can exclusively report.
The teenager's group had hoped to pay for their own follow-up video by launching a Kickstarter campaign."3KT loves our fans! We want to give you an awesome original Christmas music video in time for the holiday! Join us!" begged members Alexa Maetta, 16, Cristianna Cardinale, 14, and Gia.
Article continues below advertisement
The young singing-sensation wannabes also gushed, "We are still so overwhelmed by the buzz and support over our first music video cover 'Circus' (originally by Britney Spears WHO WE ADORE!) …We were born to perform and entertain, and we are so lucky to be able to do this in such a big way. We want to empower and inspire other young performers to FOLLOW YOUR DREAMS AND NEVER GIVE UP!"
Giudice's daughter and her fellow singers would be wise to remember their own advice. The Kickstarter campaign they started only raised $926 out of $7,500, resulting in their manager canceling the shoot.
Despite the failure, Giudice made sure Christmas came a little early this year.
"Teresa and the parents of the other two girls agreed to pay for the video to be made," a source tells RadarOnline.com. "There was no way Teresa was going to have a disappointed Gia on her hands!"
In fact, the source adds, "The video has been shot, and Teresa is extremely proud of how well Gia did."
The girls' first music video premiered on Halloween. Wearing very heavy eye makeup and risqué clothing, the girls looked "as though they are in their early twenties!" a source commented to RadarOnline.com at the time.