Exclusive
Ambitious Or Embarrassing? Teresa Giudice's Daughter Gia Begs Fans To Donate $7,500 For Girl Band's Next Video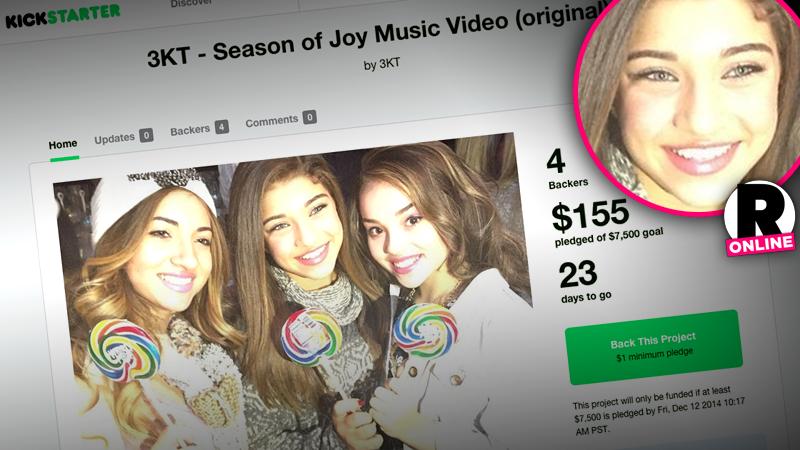 Teresa Giudice is running low on funds after being slapped with a more than $400,000 restitution bill in her fraud case. And so, RadarOnline.com has learned, her daughter, Gia, 13, and her all girl band, 3KT, have started an online fundraiser in hopes of getting $7,500 needed to film a second music video!
According to the Kickstarter campaign the girls have launched, "3KT loves our fans! We want to give you an awesome original Christmas music video in time for the holiday! Join us!
Article continues below advertisement
The teens go on to say, "WE LOVE OUR FANS! We are still so overwhelmed by the buzz and support over our first music video cover 'Circus' (originally by Britney Spears WHO WE ADORE!). So many of you had amazing words of support for us on our new journey. We were born to perform and entertain, and we are so lucky to be able to do this in such a big way. We want to empower and inspire other young performers to FOLLOW YOUR DREAMS AND NEVER GIVE UP!"
However, their dreams might be dashed because with the campaign set to expire on December 17, the fundraiser has only raised a paltry $155, with just four contributors.
RadarOnline.com broke the story: Despite drowning in $13.5 million in debt before filing for bankruptcy, and thousands in restitution for her fraud case looming, Teresa recently forked out $10,000 for her daughter, Gia's music video — against her husband Joe's orders.
Article continues below advertisement
Gia, 13, recently shot the video covering Britney Spears' song "Circus" with her all-girl band, 3KT, which also includes Alex Maetta, 16, and Cristianna Cardinale, 14.
The aspiring singers' first music video premiered on Halloween. Wearing very heavy eye makeup and risqué clothing, the girls look "as though they are in their early twenties!" a source previously told RadarOnline.com.
"Teenagers, especially, a 13-year-old should never be wearing a leather bustier," the source continued. "What kind of message does this send to other girls their age?"
The insider added, "If the girls do get the money raised for the video shoot, how short will their skirts be this time? They will probably twerk with Santa Claus!"