Critics Slam Kris For Promoting 'Messed Up' Kendall Lingerie Video & Pics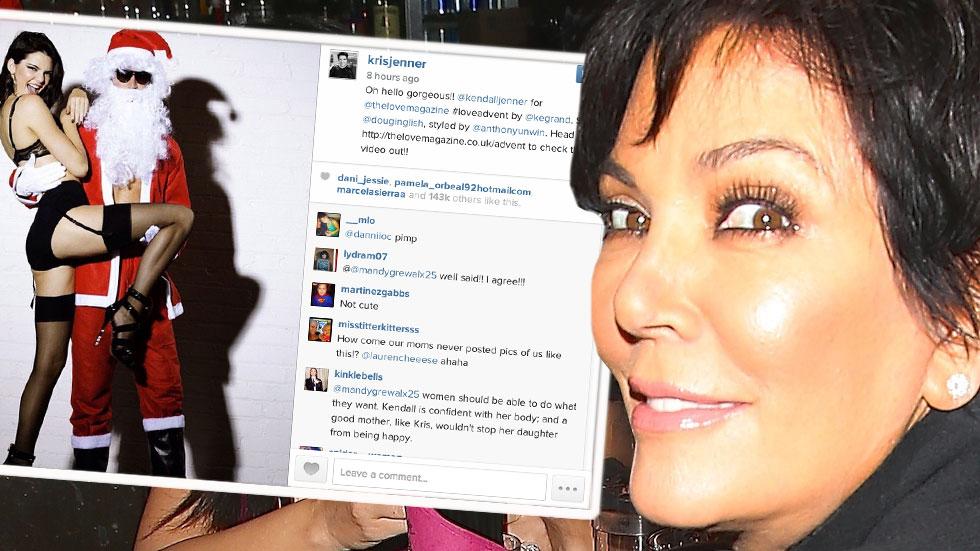 Kris Jenner has been a very naughty girl — at least according to her shocked Instagram followers.
Detractors are not feeling the Christmas cheer after Jenner posted a picture to the social media site of her daughter dressed in barely-there lingerie with the caption "Oh hello gorgeous!!"
Jenner, 59, also directs her followers to check out Love magazine's online Advent calendar featuring a video of her daughter as Day 8.
Article continues below advertisement
In the racy clip, the 19-year-old model can be seen dropping her skirt and dancing suggestively in just lacy black panties and a bra. At one point a man dressed up as Santa Claus takes Jenner over his knee and gives her a good spanking.
"My mom would beat my ass," snipes one commenter on mama Jenner's Instagram feed.
"Isn't it kinda messed up that Kris would post a provocative photo of her own daughter and applaud it?" asks another.
Still others used the words "gross" and "throwing up" to describe the photo that garnered a lot more critical responses than praise.
What do you think of Kendall's video and photo shoot? Should Kris be proud of her daughter? Tell us your thoughts in the comments.