Models Kendall Jenner & Gigi Hadid Ring In The New Year With Celeb Friends At The Abu Dhabi Mosque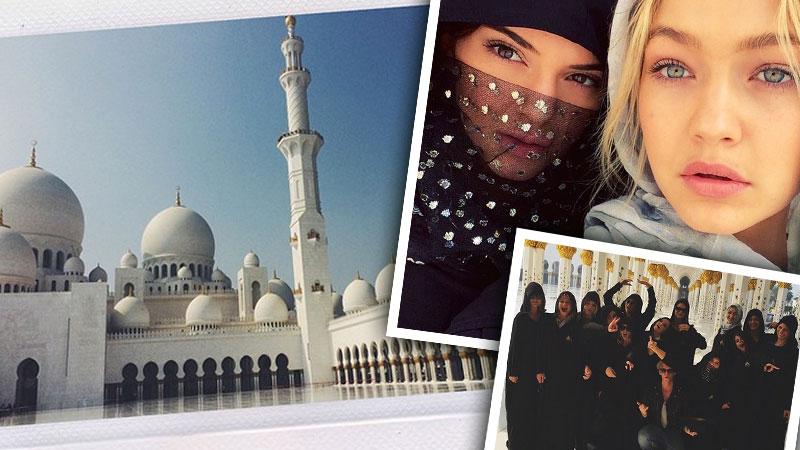 They've traded the runway for religion!
Up-and-coming supermodels Kendall Jenner and Gigi Hadid covered up their catwalk figures in traditional abayas and hijabs during their visit to the Sheikh Zayed Grand Mosque in Abu Dhabi.
But they weren't the only ones dressing the part. The 19-year old starlets were joined by a slew of celebrity pals including Selena Gomez (what does Justin have to say about this?), Cody Simpson, Shay Mitchel, and Victoria's Secret model Devon Windsor. The historical landmark was their first stop on a touristy New Year's vacay.
Article continues below advertisement
The mosque is the largest in the United Arab Emirates and can accommodate as many as 40,000 people. It serves as the key place of worship on Friday gathers.
While the young starlets attempted to blend in, they caught major flak for turning their "should be" reverent visit into a selfie photo opp.
Kendall and Gigi couldn't resist posing for a close-up, shared on Gigi's Instagram:
Does this situation sound familiar? It should! Bad girl Ri-Ri ran into the same issue in 2013, after posting racy photos in front of the worship center. Despite backlash from Twitter and Instagram followers, the teens appeared to have a wonderful time, posting this group shot from their visit:
Kendall – who celebrated Christmas with her family in Los Angeles – was blown away by the landmark, captioning one of her photos: "Incredible place."
What do you make of the posse's mosque visit? Let us know in the comments below!