Exclusive
What Divorce? Josh Lucas Seen 'Kissing' & 'Cuddling' Ex-Wife Jessica On Bahamas Vacation With Son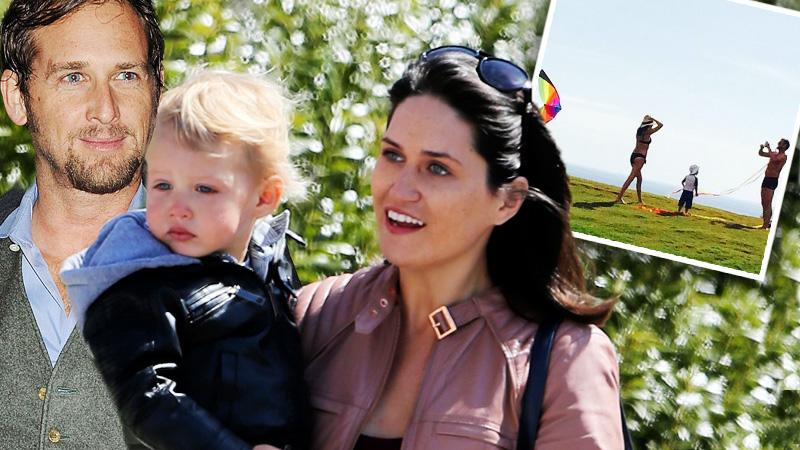 Article continues below advertisement
"Josh was being very affectionate with Jessica," the eyewitness says.
"Just this afternoon, they were flying kites with their son while everyone was having lunch at The Cove," the insider, who shared an exclusive photo with RadarOnline.com of the couple flying kites with their two-year-old son, Noah Rev, reveals.
"This past Saturday, they were watching the sunset with their little boy," the source continues. "They took turns photographing each other and chasing each other down the beach. They are definitely fun parents."
"Josh held her hand at one point the other night, and kissed her before they headed inside the restaurant," the insider tells RadarOnline.com.
"At dinner, they were kissing and cuddling with each other and when I went up to introduce myself, Josh introduced Jessica as 'my wife Jess,'' the eyewitness adds.
"They were both really kind, really down to Earth people. They have such good energy between them, finishing each others stories, laughing at themselves," the source says.
Article continues below advertisement
On Dec. 29, Henriquez, 28, shared a photo from the islands with her son in her arms, along with a caption that read, "Life is messy and sometimes messy can also be beautiful."
Henriquez, a New York based writer, was diagnosed with Cervical cancer in 2011 and met the Sweet Home Alabama star at a dog park. Six weeks after meeting, Lucas proposed to her while she was undergoing treatment and they were married in 2012.
She recently wrote an essay about the couple's split for the New York Times.
"Our start was storybook, perfect for plot but disastrous in real life," she wrote. "When it became undeniable that my husband and I were toxic together, I panicked."
She and Lucas "desperately wanted to stay together," she claimed. "We fought because our differences pushed each other to the edge of madness. We said things that were unforgivable. We did things that were unspeakable. We made threats, always ferocious, always empty. We spent a year circling the inevitable."
But after therapy and soul-searching, she says they found a way to co-parent, because they "had no choice but to continue raising a child together in the aftermath."
In the end, she wrote, "Just because our marriage was broken didn't mean that our family had to be.
Do you think that Josh Lucas and his ex-wife being on vacation together with their son is proof that they are back together? Let us know in the comments.