'It Is Disgraceful': Hollywood Storms Twitter Over Sony's Cancellation Of 'The Interview' Showings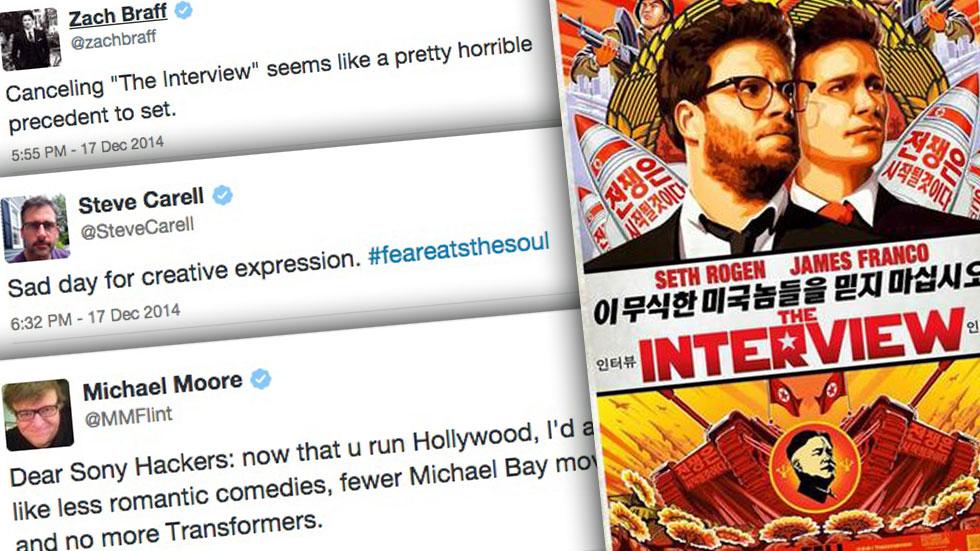 Amid threats from hackers over highly anticipated film The Interview, Sony Pictures Entertainment has chosen to cancel the film's release in the U.S. – and Hollywood stars aren't taking it lightly!
The film, starring James Franco and Seth Rogan, is a comedy centered on a fictional plot to kill North Korean leader Kim Jong-un. Shortly after production wrapped, Sony experienced its first hack attack. Officials and execs have since suspected North Korea's involvement in the attacks.
Article continues below advertisement
Steve Carell, star of hit show The Office, expressed his disappointment via Twitter on Wednesday: "Sad day for creative expression. #feareatsthesoul."
Scrubs actor Zach Braff wrote: "There goes my Hitler comedy."
Twitter continues to flutter as more stars weigh in on the issue:
Producer Judd Apatow writes: "I think it is disgraceful that these theaters are not showing The Interview. Will they pull any movie that gets an anonymous threat now?"
Television host Jimmy Kimmel responds to Apatow's tweet: "I agree wholeheartedly. An un-American act of cowardice that validates terrorist actions and sets a terrifying precedent."
Film producer Michael Moore jests: "Dear Sony Hackers: Now that u run Hollywood, I'd also like less romantic comedies, fewer Michael Bay movies and no more Transformers."
Despite the outrage, ESPN's Trey Wingo remains undeterred on his decision to pull the film, admitting, "I'm sorry…but find me one theater where 'The Interview' will run…and I'm there. Who's with me? #TeamAmerica."
Article continues below advertisement
Earlier this week, Charles Chun, who portrays General Jong in the film, spoke exclusively to RadarOnline.com about the cast's disappointment on the film's "un"-release.
"I cannot speak for everyone, but my sense is that we made a great film, we had so much fun doing it, audiences loved it at the preview and it is very disappointing that audiences who we made this film for are not going to be able to enjoy it the way it was intended," Chun tells Radar.
Do you agree with Hollywood? What are your thoughts on Sony pulling 'The Interview' from its upcoming release? Let us know in the comments below.​​