10 Days & Counting Down: Duggars Wish Jesus A Happy Birthday, Fans A Merry Christmas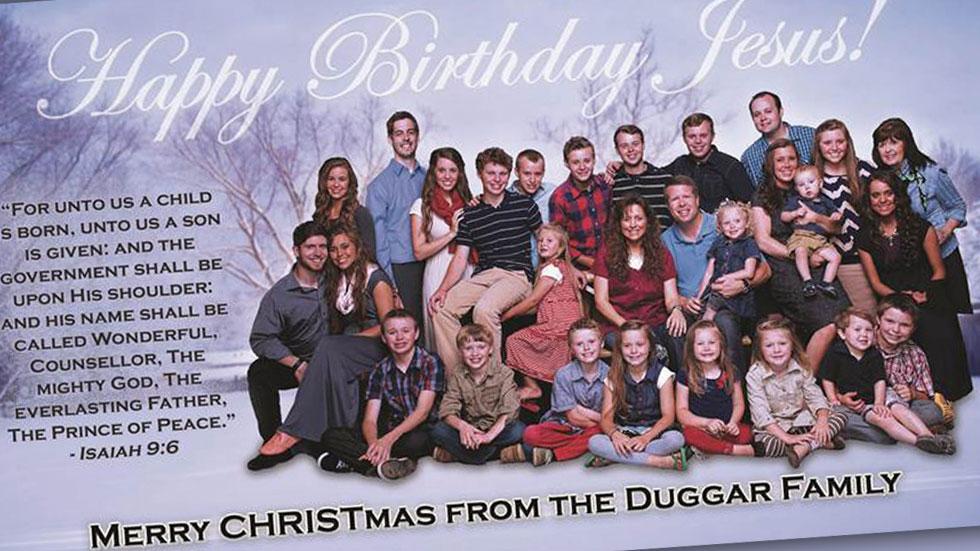 With their popularity at a fever pitch, the Duggars have revealed their 2014 family Christmas card, as Michelle and Jim Bob celebrate the season with all 19 of their smiling children.
The deeply-devout family's card is headlined, "Happy Birthday Jesus" and wishes fans, "Merry Christmas from the Duggar Family" as they smile with a wintry wonderland as the background.
On the side, the card includes with the biblical message, "For unto us a child is born, unto us a child is given: and the government shall be upon his shoulders: and his name shall be called Wonderful Counselor, The Mighty God, The Everlasting Father, The Prince of Peace. – Isaiah 9:6."
Article continues below advertisement
Late last year, family matriarch Michelle said in a TLC blog that the holiday marks "a huge celebration" and "a really big deal" as they celebrate "a big birthday party for Jesus.
"We make banners and put them all around the house and put out our nativity scene … I think we do it a bit different in our family."
This year, the hustle and bustle of the holidays might put the clan to the test, as it's no secret Jessa and Jill have been harboring tension toward one another, while the faithful family continues to come under fire for their ultraconservative political leanings.