Exclusive
Happy Holidays! Formerly Feuding Dina & Caroline Manzo Spend Xmas Eve Together With Jacqueline Laurita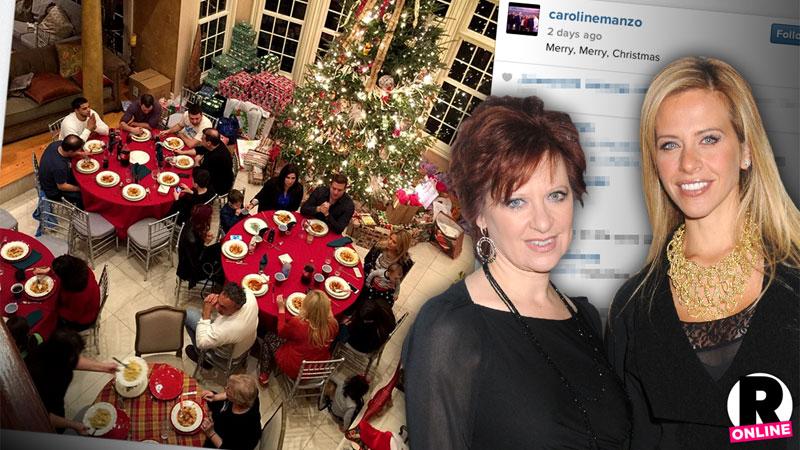 The Real Housewives of New Jersey's Manzo family has truly experienced a Christmas miracle. After Jacqueline Laurita told RadarOnline.com that warring siblings Caroline and Dina had mended their relationship, Radar has learned the trio brought all of their families together for a cozy Christmas Eve.
Thanksgiving was the first time in months that the women put aside their differences for the sake of family, with Dina meeting sister-in-law Jacqueline's autistic son Nicholas, 5, for the first time. But come Christmas Eve, the mended relationship was still intact.
Article continues below advertisement
Caroline posted a photo of the family's holiday gathering featuring both Dina, Jacqueline, and their families on Instagram Christmas Eve:
"Merry, Merry Christmas," she wrote.
As Radar reported, Dina, Caroline, and Jacqueline's kids have reunited after the feud as well. Though Dina's daughter Lexi and Jacqueline's daughter Ashlee Holmes had feuded on Twitter over their moms' cold war, they posed happily for photos at the Rockefeller Center tree earlier this month:
Though the true reason for the family's blanket silent treatment was a closely guarded secret, Laurita told Radar that by Thanksgiving, "We all mutually decided to stop the nonsense and move forward in a positive way."
Will their new era of forgiveness extend into 2015? Stay tuned!