Exclusive
Jay Z Spotted Consoling 'Sad' Beyonce During Birthday Trip To Iceland — Reason For Her Secret Pain Revealed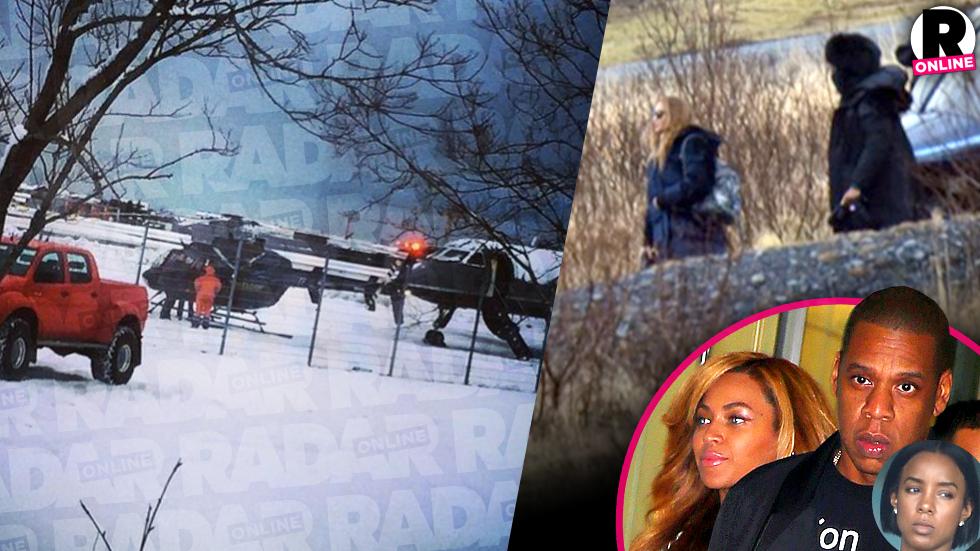 Since beach vacations and yacht getaways are a common occurrence for Beyonce and Jay Z, the couple shook things up for the rapper's 45th birthday this week and made the long journey to Iceland. But what should have been a joyous celebration turned somber when the "Halo" singer became inconsolable after hearing the sad news that Kelly Rowland's mom had tragically died, a source in Iceland told RadarOnline.com.
Article continues below advertisement
"Beyonce was upset," said Juliana Oharah, whose uncle was hired as the Carter family's private helicopter pilot. "So she was sad on the helicopter.
"Jay told her she should console Kelly and forget his party" after learning of the information from her relative, Oharah said.
The news of Doris Rowland Garrison's sudden passing on Tuesday hit the superstar hard, since she is so close to former Destiny's Child bandmate Rowland. Recently, an Instagram post calling Rowland her "sister" after the birth of Rowland's first son Titan Jewell Witherspoon, added fuel to the longtime speculation that the 33-year-old Rowland is actually the biological daughter of Beyonce's dad Mathew Knowles.
Despite Beyonce's heartbreak, however, she stayed in Europe. "The family of the deceased told her not to bother coming home," Oharah revealed.
The power couple had arrived on Monday in the capital of Reykjavík and stayed at the exclusive Trophy Lodge resort nestled in the mountains of the Langjokull.
Like true billionaire tourists, they chartered a helicopter from their hotel in Úthlíð to the Blue Lagoon spa and Eyjafjallajökull volcano, she added.
Article continues below advertisement
"He flew them around with another couple in a private helicopter," Oharah said.
And to ring in the big 4-5, Jay Z's family and friends arrived on his birthday, Dec. 4, with another special VIP, daughter Blue Ivy.
"They came before the party guests to have a few days to themselves," said Oharah. "They booked two more helicopters for sight-seeing on Friday."
Oharah said there was heavy security the Trophy Lodge to ensure the couple and their jet-setting friends, who arrived in exotic cars, could share the special night in private.
"Bey and Jay slow danced to 'Let's Stay Together' by Al Green," said Oharah.
And when the festivities came to an end Friday, it was back to business for the celebrity supercouple.
"Jay Z, Beyonce, Blue and her nanny went in one plane to California," she said, adding that some of their friends stayed behind to take in the Icelandic sights.
But they didn't leave without a fond farewell: Oharah said Jay Z left a 2000 Euro tip for the helicopter pilot. That's more than $2400.