Amy Adams Freaks Out At The 'Today Show' Over Sony Hacking Scandal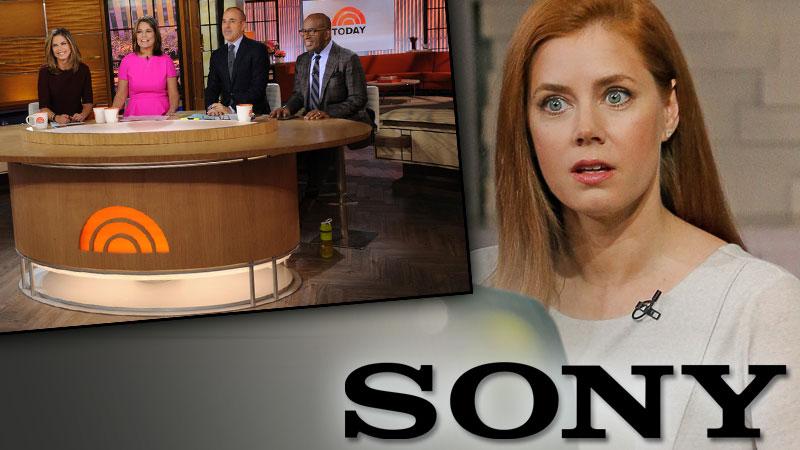 Amy Adams suffered a backstage meltdown — and it's all over the ongoing Sony hacking Scandal.
According to multiple reports, the Big Eyes actress "freaked out" backstage at the Today Show recently.
A source tells the New York Daily News that Adams, who the hack revealed got paid way less than her American Hustle co-stars, told Today producers that she would not talk about the Sony situation.
But after Adams reportedly "got aggressive," studio execs canned the interview, refusing to cave to her demands.
Article continues below advertisement
An insider tells the New York Post the situation quickly deteriorated. "Amy said she didn't want to contribute to the media coverage of the Sony Scandal . . . then she was abruptly told that her interview with Today was canceled. She was shocked and upset."
Another source insists that Adams, 40, "was angry and acting belligerent, she was yelling at Today producers, and reduced a young female staffer to tears."
An NBC representative says of the incident: "As a news program, the Today show doesn't allow guests to put restrictions on interviews. In this case, after hours of discussion we felt uncomfortable with the demands being made and we determined the best course of action for all parties involved was to cancel the interview."
As RadarOnline.com reported, Adams has had a tough time lately.
The Sony hack recently revealed that Adams was at the receiving end of director David O Russell's "lunatic behavior" on the American Hustle set.
Jonathan Alter, a veteran journalist and close friend of Lynton's, who now produces Alpha House for Amazon, sent an explosive note to Sony Pictures Chairman Michael Lynton that got leaked.
"He grabbed one guy by the collar, cursed out people repeatedly in front of others and so abused Amy Adams that Christian Bale got in his face and told him to stop acting like an a**hole," Atler alleged. "He treated the crew like s—t, demanded his own bathroom at all times and frightened people…"