Forgive & Forget? Tori And Dean Hold Hands, Put On United Front In NYC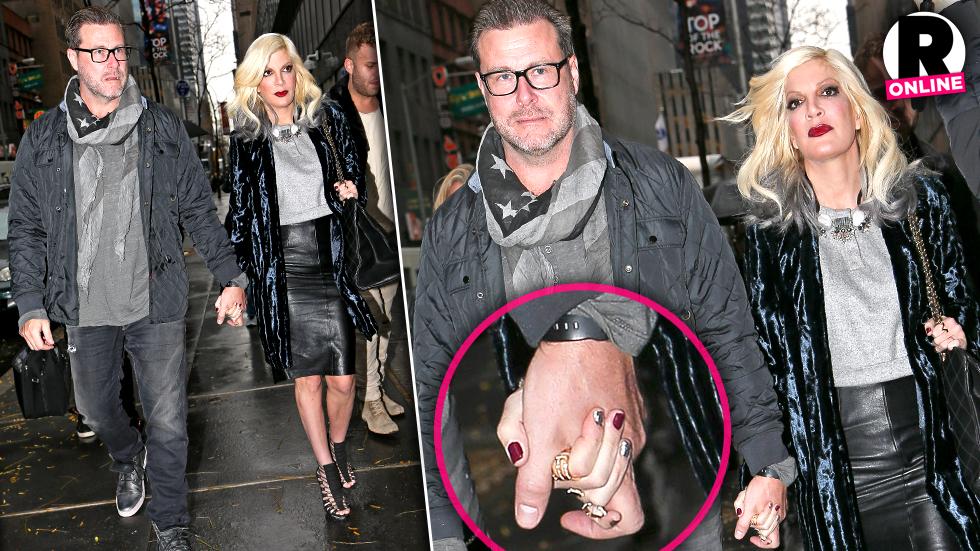 It looks like Tori Spelling and Dean McDermott's relationship is on again — or at least it is when the cameras are around.
The reality couple, who have been using True Tori to publicly working through their marital issues in the face of McDermott's cheating, put on a united front in New York City yesterday in a new video obtained by RadarOnline.com.
The short clip shows Spelling, 41, and McDermott holding hands after they get out of an SUV on their way to an interview.​
Article continues below advertisement
Watch the video here:
As Radar has reported, Spelling confessed that during her recent hospitalization her 48-year-old husband really stepped up his game and proved he could change.
"He was by my side daily. He proved it. He was home taking care of four kids. He really stepped up," said Spelling on Today Nov. 17. "And that was the big thing on the show this season. I was like, 'Step up! Take care of the kids! You've been away. You've been dealing with yourself for so long. Come back to us.' And he has—in a big way."
Even better? "The children are great and flourishing, and that's what's important," Spelling added. "Our everything are the kids and that's what comes first, and when it's not about that anymore, then this all goes away."
Do you think Tori and Dean can weather this tough time, or will the stress eventually pull them apart for good? Tell us your thoughts in the comments.