Exclusive
Just Desserts! Gelato Company Demands Teresa Stop Shilling Their Product On Twitter — 'They Want Nothing To Do With Her'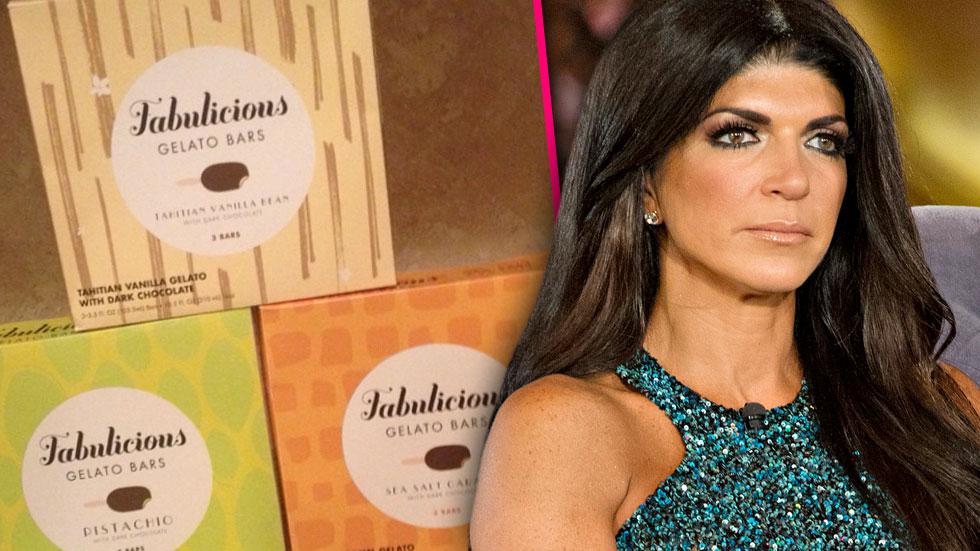 Teresa Giudice's business partners aren't just dropping her after her prison sentence — they're kicking her out the door! RadarOnline.com has learned that although her relationship with a gelato company was recently terminated, the reality starlet continued to feature a picture of herself with the product on her Twitter profile. Desperate not to be associated with her, the business fired off a cease and desist letter demanding it be taken down immediately!
Article continues below advertisement
Radar broke the story: Fabulicious Gelato Bars pulled the plug on their deal with Teresa after she was sentenced to prison time.
However, Teresa kept a picture of herself with the product on her Twitter profile, even after she was notified there would be no deal going forward.
On Friday, lawyers for Fabulicious fired off a cease and desist letter to Teresa, "demanding she take the picture of their product down immediately," a source told Radar. "The company wanted nothing to do with a convicted felon who was going to prison. It was stunning to the company that Teresa had kept it on her social media account."
"Over the weekend, Teresa did comply, and it came down," a source told Radar.
Giudice's Twitter profile now features a simple head shot picture of the mother of four.
Problems with the agreement were simmering long before her prison sentence, however, since a source also revealed that Fabulicious Gelato felt Giudice was unpleasant to work with!
"The company decided to cut their losses and not waste any more time with Teresa. She was extremely rude and unprofessional to deal with," a source previously told Radar.
Owing more than $400,000 in restitution and $13 million stemming from her bankruptcy, Giudice could have used the paycheck from the gelato company.
Adds another source, "No company wants to be associated with Teresa, she is damaged goods."
UPDATE: 
A rep for Just Desserts confirmed to Radar that the line is on hold, and said, "Teresa Giudice is nothing but professional, kind and an absolute pleasure to work with. There is no truth to the rumors that we do not want to be in business with Teresa. We have simply placed a hold on distributing the product widely until Teresa has adequate time to devote to it. Just Desserts continues to support Teresa through this difficult time and she remains a friend. In fact, we are having dinner with Teresa and Joe in a few days."