Watch As Teresa & Joe Enjoy Rare Family Pre-Prison Moment In Clip For Tonight's Special Episode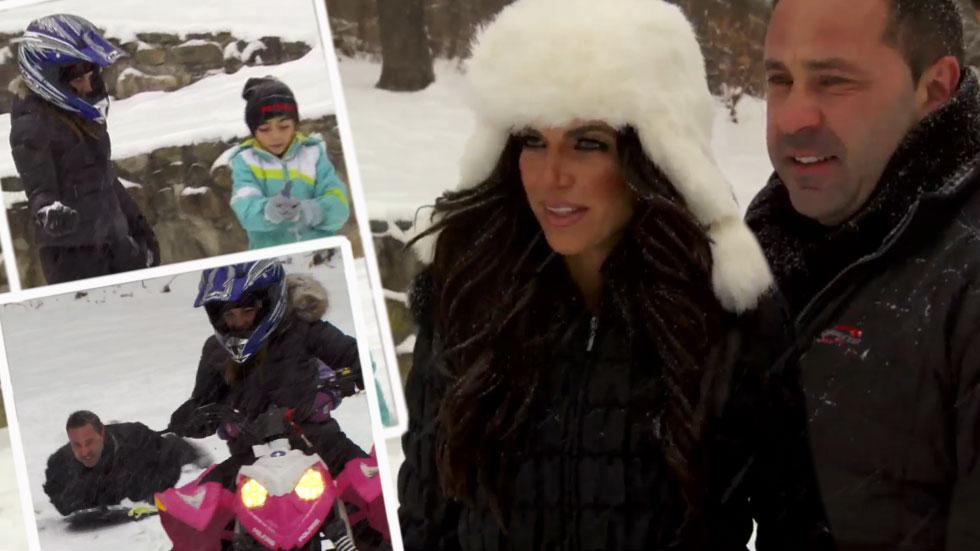 "Just being a mom, sometimes it's like a three ring circus, but you try your best," Teresa Giudice confesses in a preview clip for tonight's special New Jersey: Secrets Revealed Part 2 that shows her and Joe's girls, Milania and Gia, bicker and play on ATVs in the snow, the couple enjoy an increasingly rare happy moment.
"Now this is what it's all about," Joe, 42, gushes in the footage that was captured before he and his wife found out they would both be serving lengthy prison sentences for fraud and tax evasion. "This is what's important in life."
Article continues below advertisement
"There's journeys in life that you go through and obstacles," Teresa echoes, "and at the end of the day, all my daughters need to know is that mommy and daddy love them with all our hearts and that they'll always be safe with us."
Despite the cheeriness, as RadarOnline.com has reported, behind the scenes the family is in shambles as 42-year-old Teresa prepares to report for prison after the holidays — Joe is boozing up a storm, often in local bars, and Teresa is nowhere to be found.
"Joe is spending as much time as possible out of the house," a source close to the father of four told Radar. "There are one or two places in Rockaway, New Jersey, he likes to go to because he doesn't get bothered, and other patrons often buy him drinks."
Meanwhile, a source close to the Giudices sniped to Radar that Teresa has a packed social schedule of her own to maintain. "Teresa was given the chance to be home with her kids, right? Too bad she's been busy going out!"
To catch more Jersey drama, tune into Bravo's Real Housewives of New Jersey Secrets Revealed Part 2 airing tonight, Nov. 20 (8/7c).
WATCH THE SHOW'S PREVIEW