Exclusive
Racist Reagan! Son Of Former President Caught In Scandal Over Hateful Rants About 'Mexican A**holes' & Muslims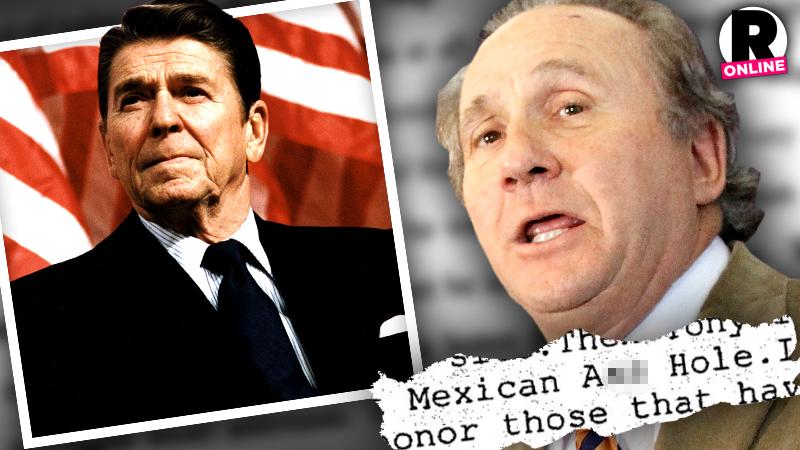 Ronald Reagan once famously joked, "Latinos are Republicans. They just don't know it yet."
Nearly 20 years later, the Conservative icon's son, Michael Reagan, is embroiled in a nasty racism scandal over his own opinions of Mexican-Americans. According to explosive court documents obtained by RadarOnline.com, he called a former colleague a "Mexican a**hole" and said he'd rather "die of the AIDS virus" than do business with him!
Article continues below advertisement
Reagan and two others are currently being sued over a botched plan to sell email addresses with the domain name, Reagan.com.
Emails from the former president's adopted son surfaced during the discovery period for the suit, and the content is disturbing.
In one, Reagan refers to former business partner Elias Chavando as a "Mexican a**hole" who should be "put in his place."
He added, "I would rather die by the AIDS virus than be in business at all with him."
Insiders tell Radar that Reagan regularly commands upwards of $12,500 on the speaker circuit to talk about his presidential father's morale, ethics, and policy.
Meanwhile, this isn't the first time that his controversial views have gone public. In a 2013 editorial, he slammed marriage equality advocates, and even compared same-sex marriage to bestiality and murder.
"There is also a very slippery slop leading to other alternative relationships and the unconstitutionality of any law based on morality," he wrote. "Think about polygamy, bestiality, and even murder."
Article continues below advertisement
He also spoke out in support of racial profiling in October. In a piece called "Profile or Die," he wrote, "If your boss suddenly changes his name from Bob to Mohammed and starts quoting from the Koran, it's time to get a new job. … It's going to be up to me and you to defend ourselves if ISIS or one of its crazy wannabes shows up at your local mall with rifles and bombs."
After a delay this fall, Reagan's trial is scheduled to proceed in January.