9021-Oh No! Lisa Rinna's Wine Glass Toss At Kim Richards One Of Many Violent Scenes In 'RHOBH' Season 5 Preview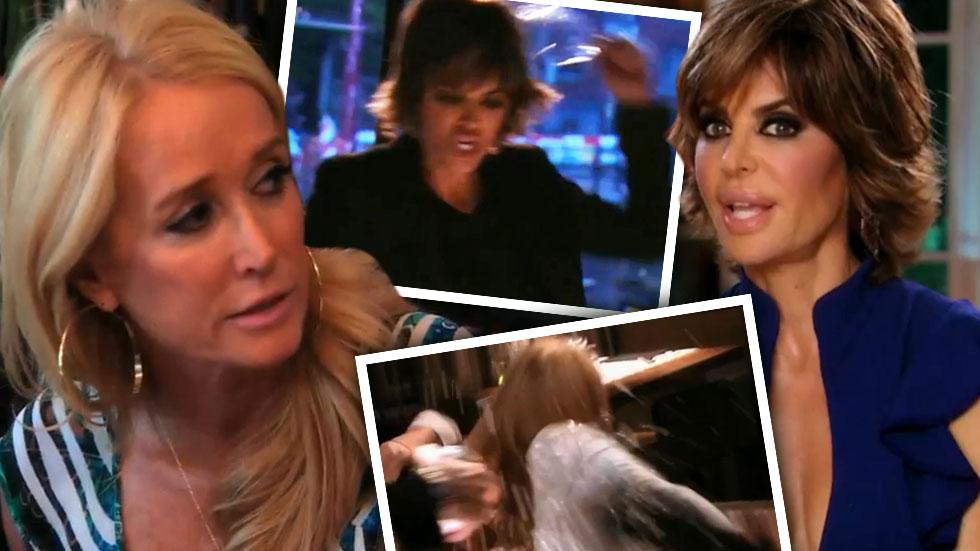 Lisa Rinna is making a splash in the 90210 — literally, with her wine glass.
The pouty-lipped wife of L.A. Law hunk Harry Hamlin, a new addition to the Bravo cast, looks to be right in the thick of things in the 90210 in a preview of the show's upcoming fifth season, tossing a wine glass at recovering addict Kim Richards.
"Don't you ever go after my f*cking husband," Rinna yells at Kim.
In another excerpt, Rinna sternly tells a dinner table full of castmates, "Everyone is enabling an addict," presumably speaking about Kim, whose battle with the bottle has been closely chronicled on the Bravo hit.
Article continues below advertisement
As RadarOnline.com previously reported, the skirmish took place between Rinna and Kim at Los Angeles' Supperclub Oct. 22.
Watch the video on RadarOnline.com
A guest told RadarOnline.com: "All of a sudden out of nowhere, Lisa Rinna starts yelling and screaming at Kim. Lisa was furious with Kim about some perceived slight, and it quickly got physical."
"Lisa attempted to push Kim, and the women had to be physically separated! Lisa even made threats against Kim — it was totally crazy."
Rinna isn't the only new castmate to stir things up, however, as soap opera actress Eileen Davidson of Days Of Our Lives fame makes her debut on the show, and immediately gets a critic in Brandi Glanville, who says the actress "sleeps around and tries to steal men."
This leads to another glass being tossed: After Davidson warned Glanville, "Don't f*cking call me a homewrecker," Glanville emptied a glass of water on her new castmate. And in yet another eye-raising sequence, Glanville is seen slapping show veteran Lisa Vanderpump.
The fifth season of the Real Housewives Of Beverly Hills kicks off Nov. 18 at 9/8c on Bravo.