Exclusive
Hell On Wheels! Kylie Jenner Sued By Woman Severely Hurt by Jenner's 'Incompetence And Unfitness' As A Driver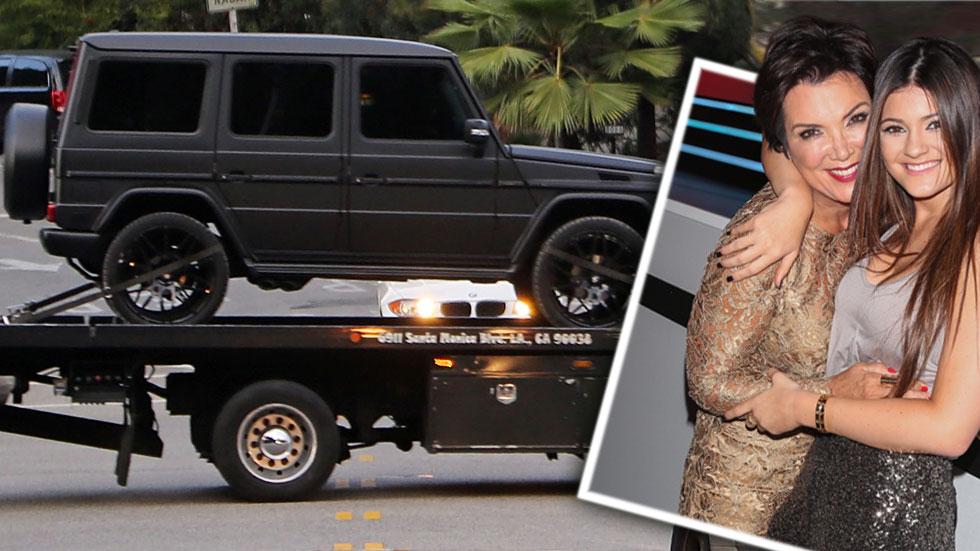 Kylie Jenner's "incompetence and unfitness" behind the wheel left another driver suffering "severe bodily injuries" that could cause her pain and suffering for years, a lawsuit filed Wednesday contends.
The lawsuit targets Kylie, 17, and her mother Kris Jenner, 59, for a chain-reaction car crash in Calabasas, California.
Jenner's momager is named in the complaint because she owned the $125,000 Mercedes Benz G Wagon Kylie plowed into stopped traffic just weeks after she turned 16 in August 2013.
Article continues below advertisement
Alida Griselie Palma Rivera was so badly injured she missed two weeks of work, her lawyer Sara Rezvanpour told RadarOnline.com.
"While it is unfortunate that Mrs. Rivera had to resort to litigation, we seek to make our client whole and to hold Ms. Jenner accountable for her actions, just like any other member of the general public," Rezvanpour said.
Kris Jenner was allegedly guilty of negligence because she "knew, or should have known, that Kylie Jenner was incompetent and unfit to drive Jenner's vehicle," the lawsuit says.
Kylie approached stopped traffic "at an unsafe speed that made it difficult for defendant to negotiate a safe stop, resulted in the rear end collision with Alvarez, who then collided with plaintiff's vehicle."
The lawsuit also names the woman driving the middle car — which Jenner allegedly rear-ended — as a defendant for following Rivera's car too closely,
Rivera wants a jury to decide how much the Jenners should pay to compensate her for the "great mental, physical, and nervous pain and suffering she's already had, as well as future suffering and loss of income," the documents state.