Exclusive
Richards Reacts! 'RHOBH' Star Kim Releases Statement Regarding Dog Attack Lawsuit – 'Details Vehemently Not True,' She Insists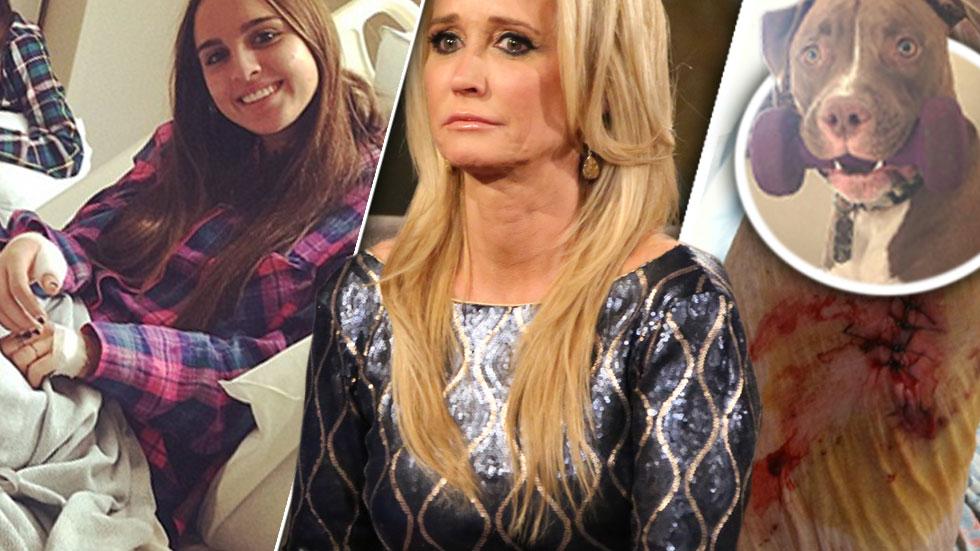 Kim Richards has released a statement following news that her "lifelong friend" and "second mother" was filing a lawsuit against her for being attacked by her pitbull, Kingsley, in March at her Los Angeles home and only RadarOnline.com has exclusive details from a source very close to the Real Housewives of Beverly Hills star.
Richards' statement reads:
"I was shocked to learn that life long family friend Kay Rozario is bringing suit against me for an incident that took place in March. Mrs. Rozario has long played an important part in my life and is someone that I have looked at as a second mother. When the bite occurred I offered immediately to handle any and all costs associated with the hospital visit but was told that would not be necessary and there was nothing she needed me to do because insurance covered all costs. Her details of what happened that morning are vehemently not true, she walked into my bedroom the next morning reaching across Kingsley towards me and Kingsley went after her. She was fully aware that I had a dog before she came to town and saw him upon her arrival. In the past Mrs. Rozario has sold multiple stories involving my family and myself and was paid for her participation in a book about my family. This event took place on the morning of the first time I saw her in over 10 years after a reconciliation for her part in the book. It's unfortunate how people can go against decades of friendship when something like this happens and make their rounds to the media for money."
Article continues below advertisement
A source very close to Richards adds, "Kay absolutely knew that Kim had a dog and she told her she had a dog prior to Kay agreeing to stay with her."
"Also, the fact that Kay would say that Kim did not offer to pay her medical bills is absurd. They know the truth and, as horrible as this incident is, the truth will come out in the end," the source said.
As RadarOnline.com previously reported, 80-year-old Rozario has hired Attorney Bill Zuhdi, who plans on filing the lawsuit "early next week," he said.
This is the second incident in which Kingsley has attacked someone close to Richards. Alexia Umansky, Kyle Richards' 18-year-old daughter was attacked on Saturday, requiring medical attention at Cedars-Sinai Medical Center.
Do you think that Kim Richards should euthanize her dog Kingsley? Let us know in the comments below.