Exclusive
Kyle's Ultimatum: Richards Tells Sister Kim To Put Down Pitbull After Attack — Or Else!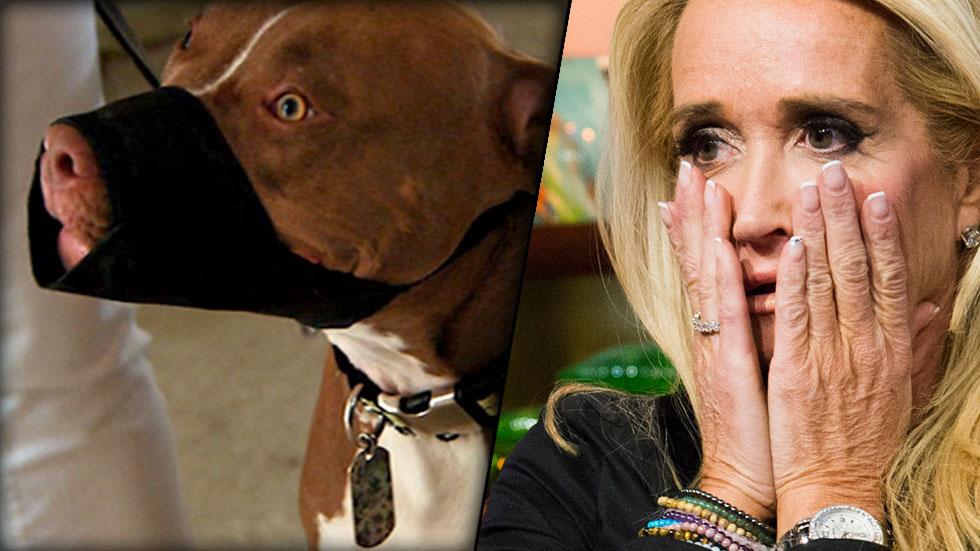 Days after Real Housewives of Beverly Hills star Kim Richards' pitbull bit her sister Kyle's daughter, Alexia, Kyle has told Kim she'll have to choose: family or her four-legged BFF. RadarOnline.com has learned that Kyle is pressuring Kim to put the dog down!
Kyle's daughter Alexia Umansky, 18, was bitten by Kim's dog on Saturday morning at her aunt's Los Angeles home. The girl was rushed to Cedars-Sinai Medical Center where she was "cleaned and bandaged," ​and went back to the hospital several days later for minor surgery on her thumb.
Article continues below advertisement
Even though Kingsley is known to be "very gentle and sweet, he can become very dangerous, quickly," an insider told RadarOnline.com. "Kyle has told Kim the dog needs to be euthanized, and her family won't go to her house until the dog is gone."
"Kim is absolutely heartbroken about the entire situation," the source said. "The last thing she would ever want is for her dog to hurt anyone. But Kim is refusing to even consider the possibility of Kingsley being euthanized."
According to the insider, Kim is considering sending Kingsley, who has a history of biting people, to a boot camp in hopes of having the animal rehabilitated. She may also give her to a pitbull group that has experience in dealing with the controversial breed.
"There are several options Kim is considering, including sending Kingsely to a behaviorist, or even a doggy boot camp. Also on the table, is giving Kinglsey to a pitbull group that could give him a better life than she could," the source explained.
Article continues below advertisement
Meanwhile, Kyle has expressed "genuine fear for Kim and her kids' safety around the dog," the source said. "She is scared Kingsley could hurt or even kill the family."
Kim told RadarOnline.com in a statement on Thursday, "First off let me start by saying the safety and welfare of my family means the world to me. I love Alexia like she is my own child and have been in constant contact with my sister Kyle and niece Alexia."
"The events that led up to Kingsley biting Alexia resulted from the girls entering my bedroom after I already told them my room was off limits," she continued. "Alexia has been away from college for months and hasn't seen Kingsley in a long time. Kingsley is used to the home being full of children and since the kids have gone away, the house has become quiet. While the two have been very close and friendly in the past, the dog has become very protective of me in the meantime. When guests are over, Kinglsey stays in my bedroom and has been given access to a special fenced in area in my backyard. Anyone entering the house is made aware that the dog should not be bothered."
It's been a tough several months for Kim, as she has battled rumors she has fallen off the wagon, and beloved ex-husband, Monty Brinson dying of cancer​.
For now, Kingsley is still "living at home with Kim," the source said. "She is a crying mess and just doesn't know what to do."
Kyle and Kim's reps said the claims were "absolutely not true."
"There have been no decisions made concerning Kingsley yet," the rep said. "She is considering many options at this point."