Sister Shout Out: Khloe Kardashian Says Through Naked Pix, Kim Is 'Saying A Big F You To The World'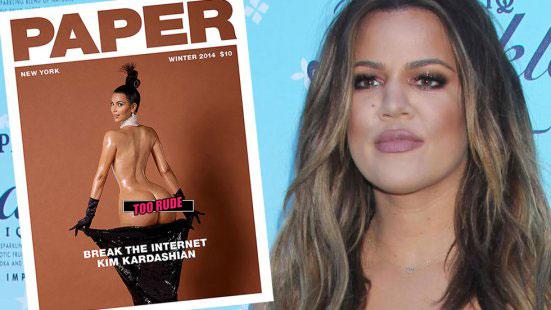 Kim Kardashian's nude Paper magazine pictures are causing a firestorm—but her sister Khloe explains that she's sending a strong message.
"People were just so hard on her during her pregnancy, that I think she feels so liberated to show everyone 'Look how bomb I look!'" Khloe told E! on Friday about Kim, 34, mother of North West, 16 months.
"So I kind of love that she's saying a big F you to the world," Khloe, 30, h noted of Kim showing off her big breasts and famous butt.
Article continues below advertisement
As RadarOnline.com has reported, Kim thinks the naked shots are classy and Khloe is her biggest supporter, declaring, "If you got it, flaunt it!"
Meanwhile, another Kardashian sister, Kylie Jenner, addressed plastic surgery rumors about her suddenly huge lips.
Skirting the issue of lip injections, Jenner implied that her new look comes from posing and makeup: "In pictures I pout them out a lot," she told E! "I think big lips are awesome. I feel like everyone's been talking about it, so I'm so sick of it, but I love lip liner. I love big lips."
Khloe defended Kylie as well, saying, "Kylie is just dope, to be 17 with this much confidence, I can't wait to see her at my age, she'll be a beast!"