Exclusive
Saving Alana: CPS Officials Came Close To Removing Honey Boo Boo From Mama June's Home Over Child Molester Boyfriend — Why They Let Her Stay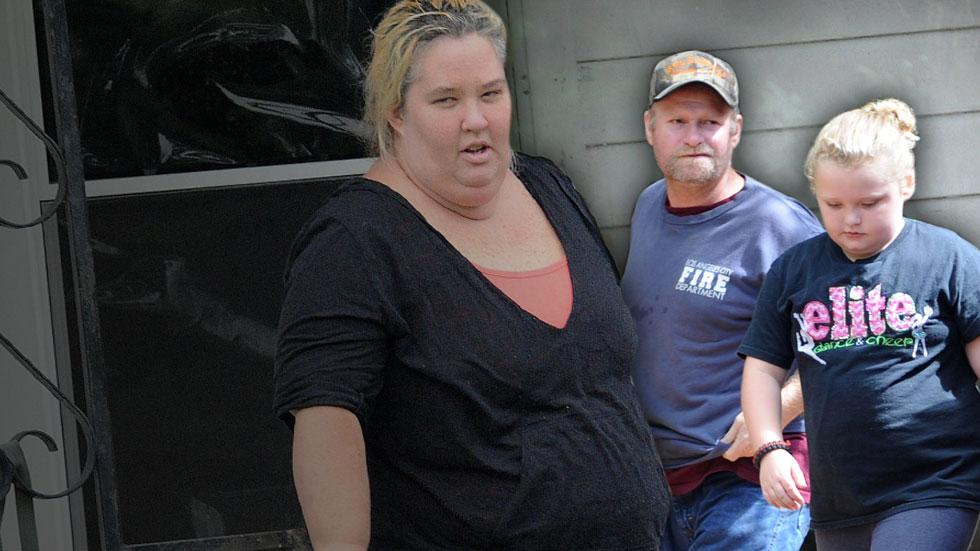 In the days after "Mama June" Shannon's relationship with a convicted pedophile was revealed, Georgia CPS officials were quick to investigate whether Shannon's daughter, Alana "Honey Boo Boo" Thompson was at risk. She remained in the home, but RadarOnline.com can reveal that it was only under the condition that her father, Mike "Sugar Bear" Thompson, would live with his ex, , after child protective services told the parents social workers wanted another adult in the house in light of allegations surfaced that the mother of four had become romantically involved with convicted pedophile, Mark McDaniel.
Article continues below advertisement
Sources close to the situation told Radar, "Social workers weren't comfortable with only one adult supervising the three minor children, Honey Boo Boo, Lauryn "Pumpkin" Shannon, 14, and Jessica "Chubbs," 17. Alana has missed having her daddy in the house, and it was suggested by the department that he move back into the house, while the investigation was still ongoing. Sugar Bear agreed to do it, but wasn't happy about it."
Now, the source said, "Sugar Bear and Mama June can't even be in the same room together at the small house. He doesn't believe her constant denials in the media that she only saw Mark McDaniel twice. He is only staying in the house so the girls don't get taken away from June. Sugar Bear is being used as a pawn, and he knows it. It's a sad situation."
Mama June's oldest daughter, Anna Shannon Cardwell, 20, has confirmed that she was molested by McDaniel when she was only eight years old.
MORE ON:
Here Comes Honey Boo Boo
Article continues below advertisement
The Georgia Division of Family and Children Services has been flooded with calls from the public, concerned about the safety of Honey Boo Boo as well as "credible sources that have contact with and know the family," a family insider told Radar.
A formal investigation was launched, and for the time being, Mama June will be allowed to maintain custody of the girls.
A spokesperson for the agency told Radar, "The Georgia Division of Family and Children Services is charged with investigating and providing support services to families who are at-risk of child abuse and neglect​. Georgia law-specifically … obligates the agency to protect the privacy of children who come to its attention, and therefore, the agency is prohibited from confirming and/or denying involvement with any family."
For the foreseeable future, Sugar Bear and Mama June "will continue to live together," the source said. "June knows the media spotlight is on her, and thinks having Sugar Bear at her side will help boost her image, which has taken a huge hit since the Mark McDaniel pedophile scandal broke. Even though they are scheduled to appear at a charity event together there is no love lost between the two."