Is She Or Isn't She? Anna Duggar Takes Pregnancy Test On '19 Kids And Counting' -- Find Out The Result!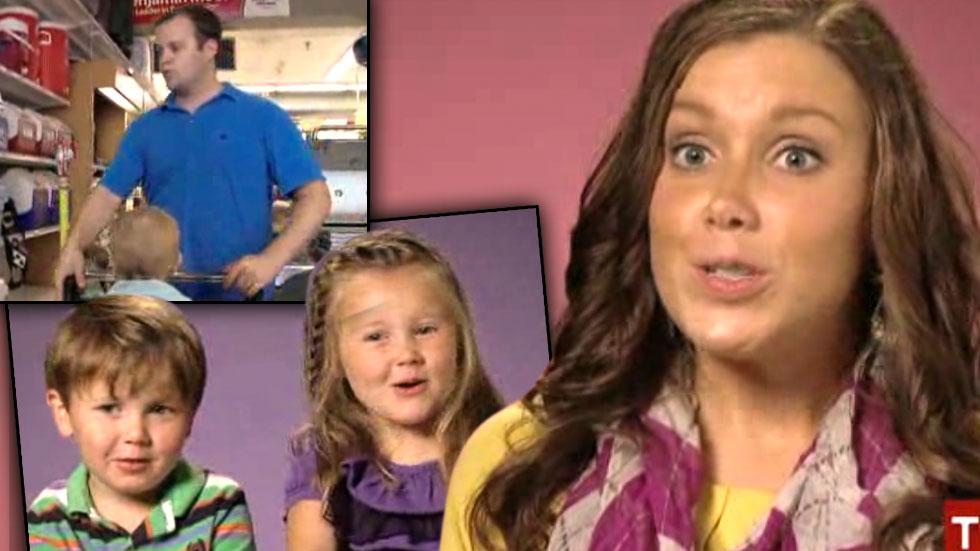 Baby fever hit the Duggars — again — as Josh and Anna continued their cross-country trip to visit Anna's sister Priscilla Waller for a gender reveal party on Tuesday's 19 Kids & Counting, which ended with Anna declaring the results of her own pregnancy test.
This week's episode picked up where last week's left off, as Josh and Anna and their kids Mackynzie, Michael and Marcus visited Chicago for the baby bash, where they predicted their cousin-to-be's gender by dressing in pink and blue, depending on their prediction.
Article continues below advertisement
At the bash, Priscilla and her hubby David had their toddler son Paul open a box filled with colored balloons that would reveal the baby's gender. When the 1-year-old opened the box, a set of pink balloons flew out, with a happy Priscilla saying she was "so excited because now she gets to go shopping!" (Priscilla delivered the baby girl, named Davia Lynn, last week.)
It goes without saying, the pageantry of the occasion fueled the fire of Josh and Anna's baby fever, as the couple is very eager to add to their three children.
After the bash, the families did some Windy City sightseeing, including a trip to the Willis Tower and an eatery serving one of the city's culinary specialities, pizza. Later the moms and dads split off with the kids, hitting up a thrift store for baby clothes, and a hardware store, respectively. The busy day culminated in a camping trip, in which David caught a huge fish that fed the growing families.
Article continues below advertisement
But the peak of the episode revolved around Anna's baby fever, and before heading back to their Washington, D.C. home, she took a pregnancy test to confirm whether or not she was expecting their fourth child. She and Josh looked at the results, disappointed to see they were not, but optimistic for the future.
"My heart is definitely to leave the size of our family in God's hands but I'm the fifth born so that's at least a good start," Anna said. "Maybe God is giving us a space, because next we're going to have twins."
While Anna said she wants to have at least five children, Josh said he was "open to whatever" in terms of expanding the family.
"I mean I think my parents are extraordinary people to have had 19," he said, "so I don't know if we'll have that many.
Watch the video on RadarOnline.com
"But we'll see, you never know."
Of course, while Anna and Josh continue to try for number four, the Duggar clan will continue growing, as newly-married Jill is expecting her first child with husband Derick Dillard.