Exclusive
Yelling, Screaming, & Plenty Of Tears! Kim & Kyle Richards Have Epic Brawl At Adrienne Maloof's House: 'Kyle Doesn't Believe Kim's Sober'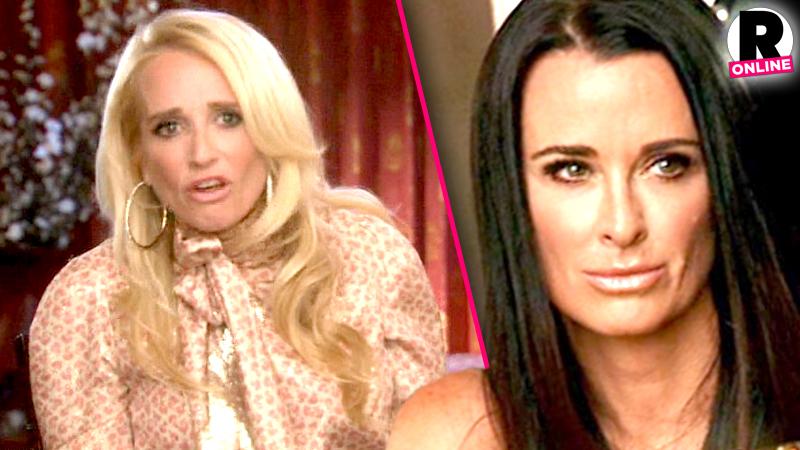 The Real Housewives of Beverly Hills just finished filming the upcoming season — and it went out with a bang! RadarOnline.com has learned that there was "yelling, screaming, and plenty of tears" during a finale party hosted by Adrienne Maloof, as sisters Kim and Kyle Richards had a blowout over rumors Kim has fallen off the wagon.
Maloof was hosting a party to promote Never Hungover, a supplement company owned by the reality star's family, which claims to fend off any negative side effects after drinking too much.
Article continues below advertisement
According to an insider, "Kim and Kyle had already been openly feuding over allegations that she had fallen off the wagon."
30 Most Ridiculous & Outrageous Quotes
"Kyle just doesn't believe that Kim is indeed sober," said the source. "After the cast trip to Amsterdam, Kyle became even more convinced that Kim has suffered a setback in her battle with alcohol."
"But Kim absolutely maintains that she is still sober, and thinks the show is just exploiting her recovery," the source said. "So the sisters got into a huge fight at Adrienne's party."
"There was tons of yelling, screaming, and plenty of tears," the source revealed. "It was so tacky to see these grown women behaving like this in public!"
As RadarOnline.com reported, Kim was very upset earlier this season, when producers chose to send the cast to Amsterdam for the season's group vacation.
The cast trip is a staple of the Housewives franchises, and this time around producers settled on the European capital, where many forms of marijuana are legal.
After arriving in Amsterdam, sources told RadarOnline.com, Kim "was slurring her words, and acting like someone who isn't sober."
Subsequently, "There were tensions during the trip with Kyle and Eileen Davidson. This obviously lingered over to Adrienne's party. Kim and Kyle are in a very dark place right now...it's really sad," the source added.