Exclusive
Pamela Anderson's 'Family Is Worried' About Her Shrinking Frame — 'She Appears To Weigh 90 Pounds,' Claims Doctor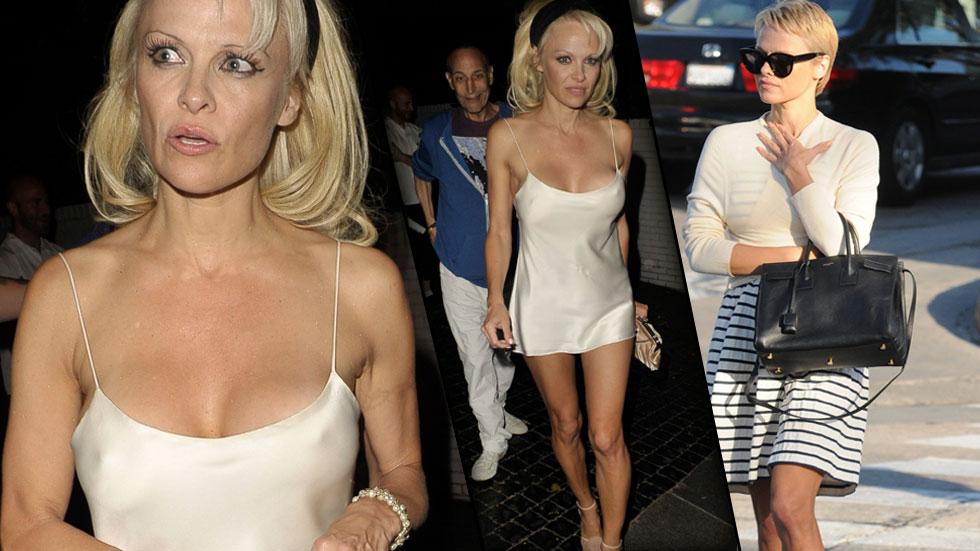 Pamela Anderson stepped out of the Chateau Marmont on Oct. 2 looking noticeably thinner and friends close to the 47-year-old former Baywatch beauty tell RadarOnline.com exclusively, "everyone is very worried right now."
"She is not taking care of herself and Rick and the kids are really concerned," the source says, referring to Anderson's husband, Rick Salomon, 46, and her two sons, Brandon Thomas Lee, 18, and Dylan Jagger Lee, 16.
Article continues below advertisement
"Her weight is dropping at an alarming rate," the insider says, and two doctors agree.
"She looks very gaunt and fatigued because of extremely rapid weight loss," says Dr. Harrison Lee, MD, a Beverly Hills cosmetic surgeon who has not treated Anderson.
"She has lost a significant amount of fat or volume in the face; hence, the tired appearance," Lee tells RadarOnline.com.
Dr. Neal Handel, MD, also a Beverly Hills plastic surgeon, agrees with Lee and estimates that Anderson has lost about 15 pounds since October 2013, placing her around 90 pounds!
"In comparing the photos of Pamela Anderson from October 2013 and October 2014, Pamela appears to have experienced dramatic weight loss," says Handel, who has not treated the star. "The changes in her face are particularly noteworthy. The only part of her body that has not diminished in volume is her breasts, because they are largely comprised of silicone implants."
Handel, who has also not treated Anderson, adds, "It is impossible to say from the photos what may be the cause of her weight loss. It can be due to a wide range of physical or emotional conditions."
As RadarOnline.com previously reported, "Her friends and especially her children are staying strong and letting Pam know that they will support her."
"Rick loves her so much and he wants her to seek professional help, but Pam is going to do what Pam is going to do," the friend tells RadarOnline.com.
Do you think that Pamela Anderson should seek professional help? Let us know in the comments below.