Inherited Or Injected? Khloe Kardashian & Kylie Jenner Flaunt Matching Trout Pouts As Nip Tuck Rumors Continue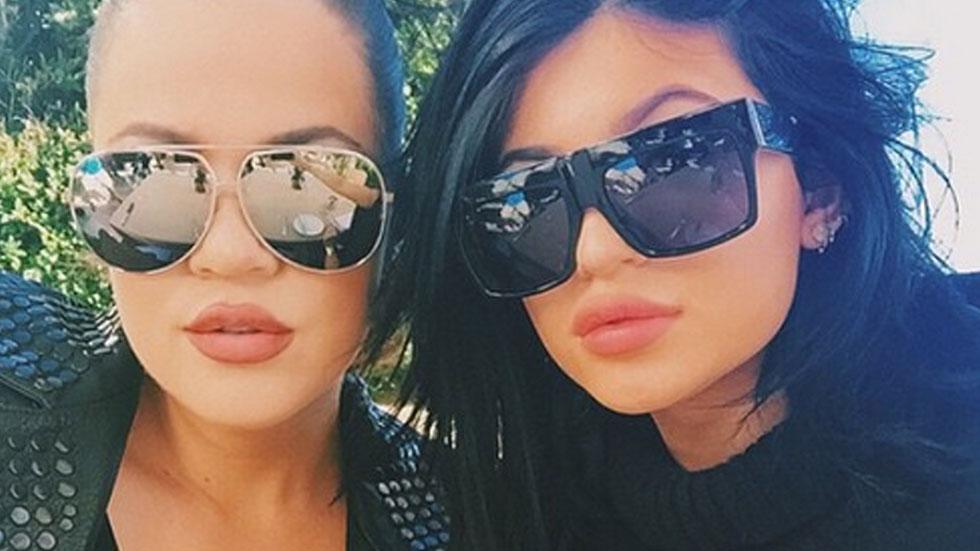 Kylie Jenner apparently isn't the only Kardashian Klan member who has a trout pout.
Her older sister Khloe Kardashian recently posted a snap on her Instagram page of the two displaying their full lips in a sexy selfie.
And the picture is bound to spark fresh speculation that the 17-year-old has had plastic surgery just days after she went on a Twitter rant, blasting people for talking "about this lip thing."
Article continues below advertisement
As RadarOnline.com previously reported, in a series of tweets on October 27, Jenner wrote, "How long are we gonna talk about this lip thing lmao.
"Let's get a sic our lives together guys and talk about some important s**t," she continued. "Just talk about something new at least. I'm bored."
That only seemed to fuel speculation that the teen has had her lips enhanced.
Big sister Kim Kardashian jumped into the mix during an interview that was uploaded on YouTube a day later.
The reality TV star spoke to Brit style vloggers Pixiwoo about all things make-up and fashion.
When the ladies started asking Kim about how she achieves her look the conversation spilled into Kylie's style secrets.
One of the interviewers said, "Well, Kylie's got a lovely look going on at the moment. Her lips…Everyone's asking me for that at the moment."
To which Kim replied, "She like draws her lip like…"
Article continues below advertisement
At that point the 34-year-old traced a line around her mouth and said, "It looks amazing!"
"I go into her room and I'm like, 'What liner do you wear?'
"Because she only wears a lip liner and then she fills it in. She doesn't wear a lipstick or a gloss.
"She's so good at make-up. Every event, she only does it herself."
Kim then revealed that her sister, apparently, achieves the pouty lips by using MAC lip pencils and that the shades "Soar" and "Spice" are her favorites.
This may end speculation that Jenner has used Botox or other cosmetic surgery to make her lips look plumper.
This summer, many Twitter users accused the teen of doing just that.
In June one user @illuminabi wrote, "Pisses me off so much how Kylie Jenner tries to say she hasn't had any surgery, her lips used to be thiner sic than a lasagne sheet."
The TV star took to Twitter to deny the accusations, saying, "These plastic surgery rumors hurt my feelings to be honest and are kinda insulting."
Do you think she's had her lips enhanced? Let us know in the comments!