Exclusive
'RHONJ' Star Jacqueline Laurita Hints About Reconciling With Dina Manzo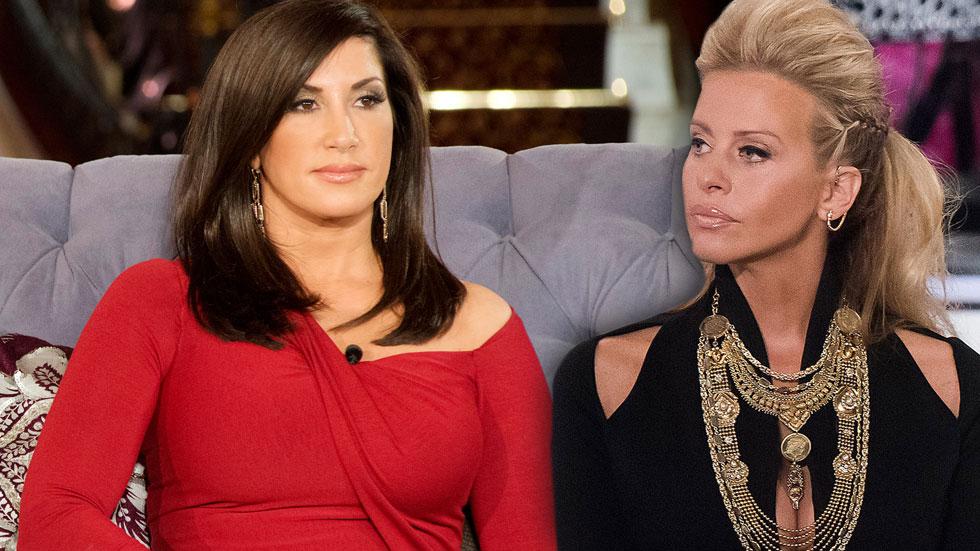 Could the ice finally be melting between Jacqueline Laurita and her estranged sister-in-law, Dina Manzo?
Following RadarOnline.com's exclusive October 22 report of the real reason that the two Real Housewives of New Jersey stars fell out on Season 1, it seems Laurita, 42, is intent on taking another stab at making amends.
"I'm happy in my life," tweeted Laurita. "I have a lot of great things coming up. Those that want to be a part of my life can be there, those that don't...k bye."
Article continues below advertisement
She then followed up with a second message: "I welcome those that make an effort."
Even Jacqueline's 24-year-old daughter, Ashlee Holmes, got involved in on the action with an inspirational Instagram message posted a short time after her mom's messages.
"An unresolved past never goes away until you find the courage to revisit all the pain and accept there's nothing to do to change the past," read the quote. "What's happened has happened. And what's done is done."
"If I see a quote I like and it resonates with me in some way where I feel it helped me...I like to share it with all of you," explained Holmes.
But just because the duo seems to be struggling to reach out and move on doesn't mean they will sit back and let anyone, like 44-year-old Manzo, walk all over them.
"Life is too short to waste one single second with someone who doesn't appreciate and value you," read a message Laurita retweeted.
Article continues below advertisement
As RadarOnline.com reported exclusively, the real reason Laurita and Manzo fell out was all a result of an incident that happened way back in Season 1.
A source explained that all the drama stems from the Real Housewives of New Jersey finale that year, during which Danielle Staub brought out Cop Without A Badge, a book written by her ex-husband that laid bare Staub's criminal past.
Staub then blasted Manzo, insisting that the past was "very much in the present thanks to you," blaming Manzo for showing the book all around town.
"Like she often does, Dina tried to act like her hands weren't dirty at that dinner," sniped the source, adding that Manzo started pointed fingers and accused Laurita of getting involved, too.
"That's when Jacqueline lost it and told Dina 'I'm done lying for you," recalled the source. "As soon as she said that, her relationship with Jacqueline was basically over."
Is there any chance this family will ever reconcile their differences or are Jacqueline's efforts all in vain?