Exclusive
Downsizing! 'Delusional' Teresa Giudice Struggling To Find A Home She Can Afford Amid Legal Troubles & 'Credit In The Toilet'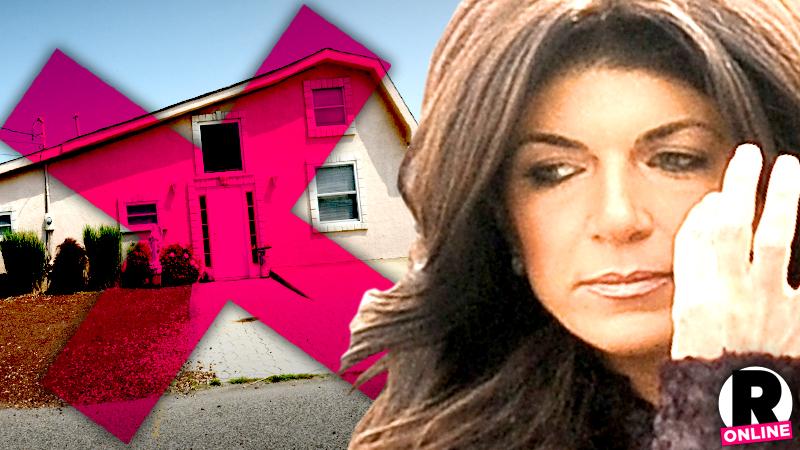 On a recent episode of The Real Housewives of New Jersey, Teresa Giudice, was complaining about downsizing to a $1.4 million mansion, half the size of her current abode, which is almost 16,000 square feet, and listed for sale at $3.99 million. But RadarOnline.com has learned she might have to set her sights much lower! According to an insider, the convicted felon's credit is so bad, she might have to pack her family of five into a modest condo.
Article continues below advertisement
A source close to the mother of four, about to be sentenced on her fraud and bankruptcy charges, say she needs to "get a serious reality check."
"Teresa will be lucky to afford a condominium with three bedrooms," the source continued. "There is no way Teresa and Joe could afford a house close to $400,000. She and Joe have almost no equity in either of their houses because they refinanced so many times."
What's more, the source said, "Their credit is in the toilet because of the chapter 13 bankruptcy. No bank would loan any money to them! Heck, they would even have trouble getting an apartment in Newark because of their credit history. The fact is they have almost no income coming in, and Joe is about to go to prison for up to four years."
Viewers of the reality show were outraged on Sunday night to see Teresa carrying a hot designer Valentino handbag, valued at $2,400 during a real estate outing.
Article continues below advertisement
As somber Giudice shopped for properties with her daughter, Gia, on Sunday night's episode, she could be seen carrying the "Rockstud medium leather trapeze bag" from the Italian designer's most recent collection.
Giudice's $13.5 million bankruptcy was just settled earlier this month, but an insider insisted she wasn't up to anything shady.
"Teresa was given a Valentino handbag by producers of the show to use for filming," the source said. "They wanted her to look extremely wealthy while looking for a new house, especially because she was downsizing."
Still, the source revealed, "The purse was on loan but Teresa expected to keep it. When producers told her she had to give it back, she wasn't happy about it at all! "
As the real estate search continues, "Teresa believes someone will step up and offer her family free housing," the source revealed. "She is absolutely delusional, and thinks a property owner would be lucky to have her as a tenant. Of course, Teresa thinks in her mind she shouldn't be required to pay any rent. Her family is very concerned, and her parents have even told her she could move in with them.....which would be the last thing Teresa would ever do."