Sarah Palin Says She's 'Proud' Of Daughter Bristol For Allegedly Punching A Man In The Face During 'Fists Of Fury' Alaska Family Brawl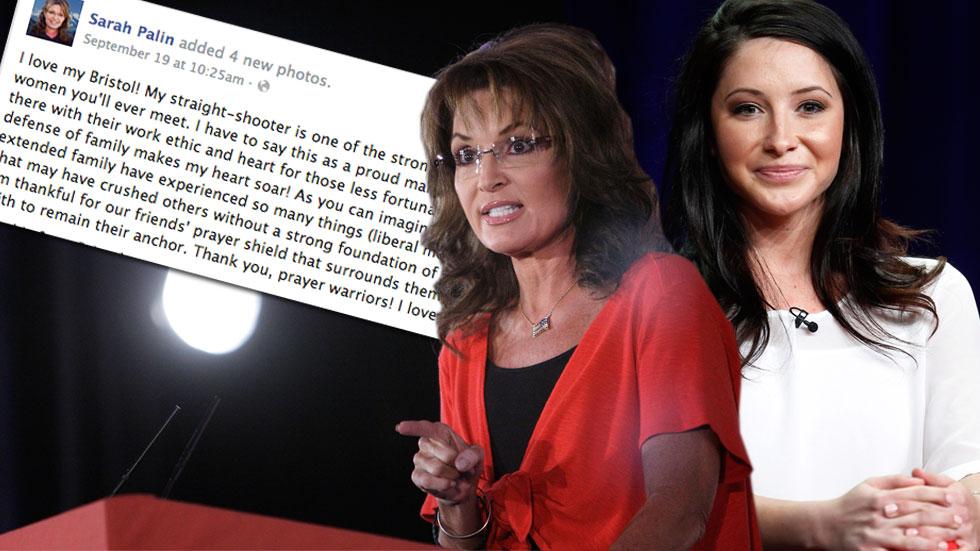 Conservative firebrand Sarah Palin is defending her daughter Bristol for allegedly punching a man in the face at a family brawl two weeks ago.
In the wake of RadarOnline.com's exclusive interview with a man who claims Sarah got him fired after he spoke out about witnessing the alleged fight, the former vice presidential candidate wrote on her public Facebook page, "I love my Bristol! My straight-shooter is one of the strongest young women you'll ever meet. I have to say this as a proud mama: right up there with their work ethic and heart for those less fortunate, my kids' defense of family makes my heart soar!"
Article continues below advertisement
Bristol, 23, was at a birthday party in Anchorage, Alaska on September 6 with her 50-year-old mother, her brother, Track, and her father, Todd, when all hell broke loose.
Police claimed after Track, 25, confronted an ex-boyfriend of his sister, Willow, a large group of people got involved in a brawl. When the party's host asked the Palins to leave, Bristol allegedly punched him in the face.
Partygoer Eric Thompson told Good Morning America that the former Dancing With the Stars competitor was "punching him in the face" repeatedly.
"The person she punched, this guy, took straight shots to the face one after the other, after the other, and never retaliated and was just a stand-up person," Thompson said. "I admire him for being a gentleman. This is a woman, and it doesn't matter if she's punching you in the face."
Alaskan native Thompson then told RadarOnline.com in an exclusive interview that he was abruptly fired from his job after speaking out about the brawl, and he blamed Sarah!
Article continues below advertisement
Although Sarah didn't directly mention the brawl on Facebook (and hasn't commented on Thompson's claim), she went on to blame her frequent target--the "liberal media"—for the whole thing.
She wrote on Facebook, "As you can imagine, they and my extended family have experienced so many things (liberal media-driven) that may have crushed others without a strong foundation of faith, and I'm thankful for our friends' prayer shield that surrounds them, allowing faith to remain their anchor. Thank you, prayer warriors! I love you!"
Sarah then included a link to Bristol's blog, where her daughter staunchly denied a "random" news report that her parents were getting a divorce!