Muhammad Ali's Son Claims His Stepmother Won't Allow Children To Visit Their Parkinson's-Stricken Father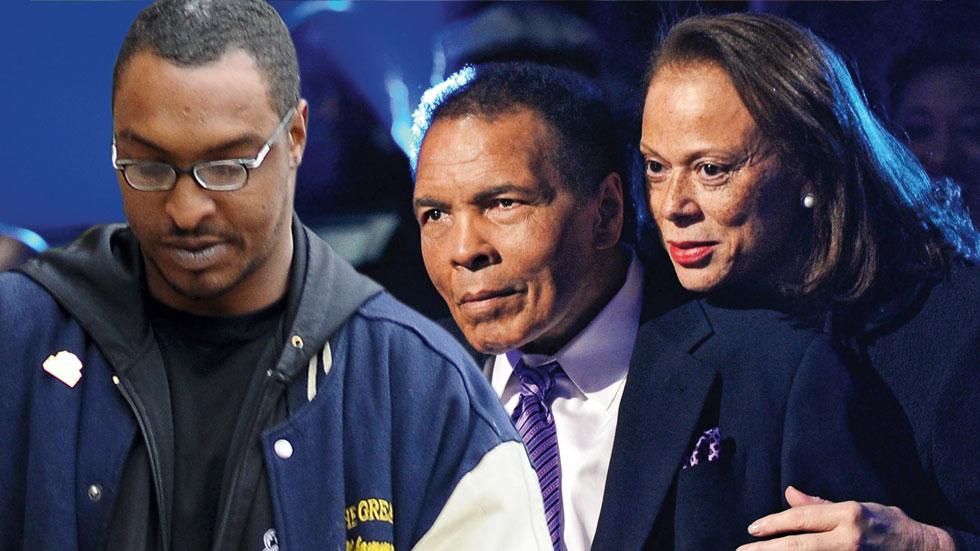 Although he is fighting for his life, boxing legend Muhammad Ali is gearing up for another fight – with his family.
Ali's only natural son claims his father's wife of 27 years, Lonnie, is preventing his nine children from seeing him while he struggles with Parkinson's Disease, The National ENQUIRER is reporting. Muhammad Ali Jr. believes that he and his siblings should oversee their father's care and are debating going to court to fight for conservatorship and visitation rights.
Article continues below advertisement
"I can only speak for myself, but we don't get to see my father as much as we'd like to," Ali Jr., 42, told The ENQUIRER in an exclusive interview. "We're considering taking legal action."
But this isn't the first time one of the great fighter's children has spoken against his fourth wife. His son Rahmon previously told The ENQUIRER that Lonnie was keeping him as a "prisoner in his own home" while draining his $50 million fortune. He even went so far as to call her "evil."
Ali Jr. is convinced that his father's wife is more concerned about money than health, so he wants to take a stand.
"It's not that Lonnie is all about caring about my father – it's all about what she can get," Ali Jr. said. "We would prefer to see his care in control of the family.
"We want to get power of attorney over my father," he added. "We love him, and we can take care of him as he should be cared for."
MORE ON:
Celebrity Justice
Article continues below advertisement
But any legal action would be faced with harsh resistance from Lonnie, insiders revealed to The ENQUIRER, as she has looked after him since he was first diagnosed in 1984. Despite any interference claimed by Ali Jr., the boxer's son admits that he spoke to his father after posting a plea on Facebook.
"It was a short conversation," Ali Jr. told The ENQUIRER. "I guess he was doing okay, but it's hard to tell unless you see him."
In response, a statement from the champ's family to The ENQUIRER said:
"The allegations made by Muhammad Ali Jr. concerning Lonnie Ali are completely false. Muhammad's children have always visited their father as their and his schedule allow ... the Ali Family feel that Muhammad Jr. is being manipulated to make false claims to the media, possibly for monetary gain."