Move Over Kim! Miley Cyrus Wears Ridiculously-Large Booty Extension Prior To Concert In Mexico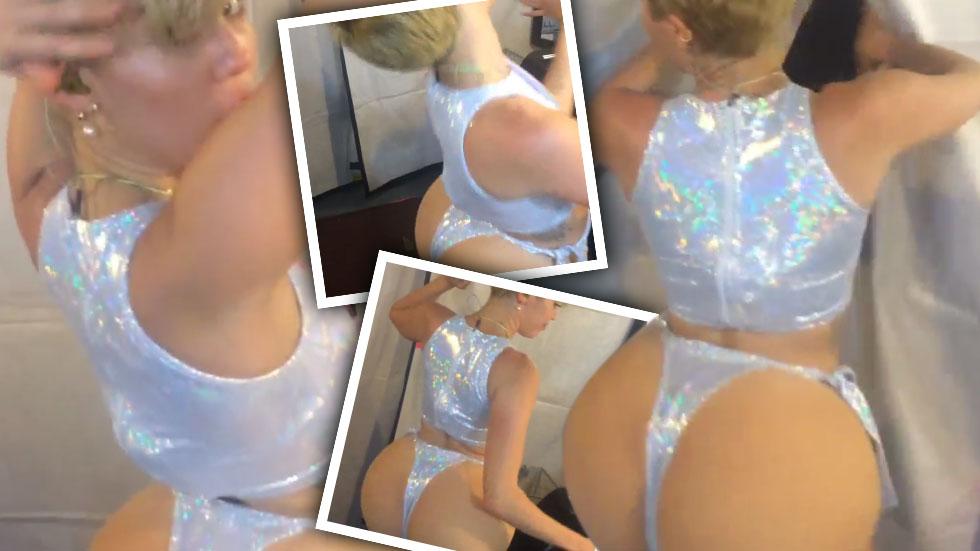 Miley Cyrus' laundry list of cartoony, R-rated capers — with a dash of youth, a hint of sex appeal and a dollop of crazy — has a new entry Thursday, as the irreverent singer wore a massive fake booty, then shook it for her fans on Instagram.
"I don't even need wigs, b*tches," the "Wrecking Ball" singer said in the prosthetic derrière with a silver thong, before launching into her trademark twerk.
The 21-year-old in a previous post debuted the extension, calling it an "a** so fat need a lap dance."
Article continues below advertisement
Watch the video on RadarOnline.com:
http://instagram.com/p/tDz9IMwzLA/?modal=true
The rump-inspired show of creativity will surely raise the ire of one Nicki Minaj, who in the past has publicly called out her pop rival for borrowing elements of her stage persona.
Cyrus takes the stage for her Bangerz tour in Monterey Thursday, with gigs coming up in Mexico City and Guadalajara.