Amber Rose Rips 'Fake Stories' Speculating About Her Cheating, Says She Would 'Never Ever Ever Cheat' On Wiz Khalifa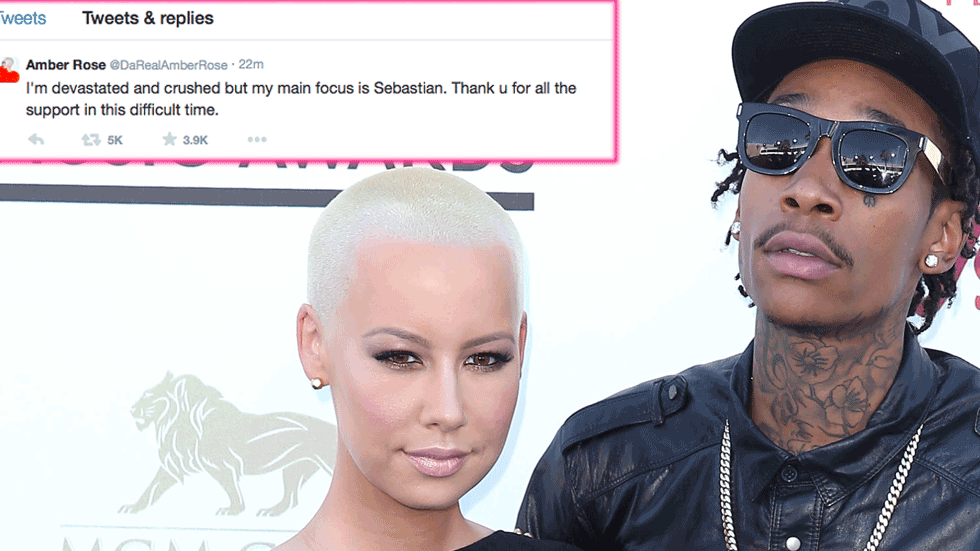 Amber Rose took to Twitter Thursday to combat a slew of recent rumblings that her marital breakdown to Wiz Khalifa was, in part, due to an affair she had.
The short-haired stunner wrote, in a series of messages, "Please stop with the fake stories.
"I would never ever ever cheat on my husband in a million years I think u guys know this," she wrote, likely in references to multiple online reports that linked her to Mariah Carey's estranged husband Nick Cannon.
Article continues below advertisement
She then put the "Black And Yellow" rapper in the wrong, alleging that "unfortunately my now ex husband can't say the same…."
Rose went on to say she's "devastated and crushed" at the end of her year-long marriage, but is making sure her "main focus is Sebastian," their 20-month-old son.
"Thank u for all the support in this difficult time," the fashionista said.
As RadarOnline.com reported, Rose, citing irreconcilable differences, filed to divorce the Blacc Hollywood rapper Tuesday, asking for sole custody of their toddler, as well as spousal support, based on the prenuptial agreement they drew up.