Exclusive
Aaron Carter Still Pining For Ex-Girlfriend Hilary Duff: 'The Party Is … In My Bed'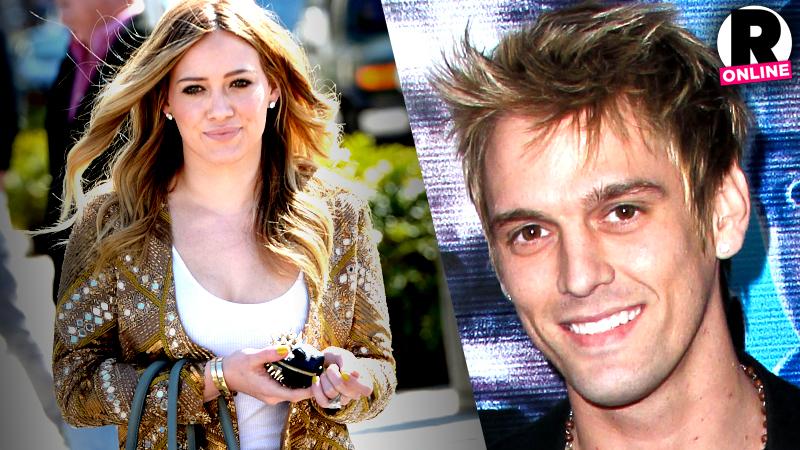 Earlier this year, Aaron Carter went on a Twitter campaign to profess his love for his teenage girlfriend Hilary Duff in the hopes of winning her back. And even though Duff initially rebuffed him, he tells RadarOnline.com that he still wants a "chance" to make things right between them.
Last week, Duff — who is still married to estranged husband Mike Comrie — spoke out to BuzzFeed about Carter's recent Twitter campaign for her heart.
Article continues below advertisement
"I don't know how I feel about Aaron's public Tweets of affection. I mean, that was so long ago, and obviously I'm still married, and I have a baby and we kind of just… don't know each other," she said.
Carter told Radar, "It is crazy. I tweeted something months ago. I didn't think that would be the tweet heard around the world."
"I don't really how to respond to her rejection," he continued. "To be honest with you, I tweeted something then I got really busy."
Carter says has been spending his time focusing on his upcoming tour, Aaron Carter's The Wonderful World Tour, which kicked off on Sept. 18.
"I've been super duper busy rehearsing for the tour and dancer auditions, promotion for my music video, recording my album, so I haven't really had enough time to pay attention to it anymore and honestly, I'm putting the focus on myself," he said. "I wish her all the best with her music. Obviously, we were a thing when we were younger, but we don't know each other now. I get how it could be weird. So I'm going to leave it at that, there's nothing really for me to say. We don't know each other now. In the way I put it, I made a mistake when I was younger and I'm always going to want a chance to redeem myself. That's how I look at it."
Article continues below advertisement
Carter has totally reformed his life and is on the straight and narrow after battling an addiction in his early 20s.
"When it comes to being sober, I am sober," he admitted. "When it comes to being sober, I went to rehab for a Xanax addiction. I'll leave it at that."
The 26-year-old singer knows that every day is still a challenge, though.
"I'm still in recovery," he said. "I'm still dealing with all different kind of things that are crutches on me. But when it comes to a party lifestyle, the party is at my show when I'm on stage. When I get off the stage, the party is then in my bed."
Carter also had to deal with filing for bankruptcy, but said that he is finally done with that after paying off his back-taxes in 2014.
"My parents weren't very responsible when I was 12/13, so I had all this debt when I turned 18 and I couldn't do anything because I was blacklisted because I had all that stuff," he said. "I got a chapter seven discharge, which means they dropped every single thing and that never happens. I wanted to take responsibility for something that happened to me that wasn't my fault and I made sure that I got rid of it because I said to myself, 'I'm a young man. I can turn my life around. I can make a lot of money back. I can take care of this.' And that's exactly what I did."
Article continues below advertisement
"The valuable lesson I learned is how to be a man and how to take responsibility and own up to something even when it's not your responsibility, doing it anyway, and then getting it resolved," Carter said.
And now Carter is doing just that by promoting working on his new album and hitting the road for tour.
"It's been a crazy road for me," he said. "I've been doing a lot of things to try to get my career back on track… and it's been really hard, but hard work perseveres."'
Carter is still currently working on filming his album, but his new single, "Ooh Wee," will be available on Oct. 14.