Exclusive
Red Carpet Fail: Wesley Snipes Served With Legal Papers At 'Expendables 3' Premiere — SEE The Cringe-Worthy Pic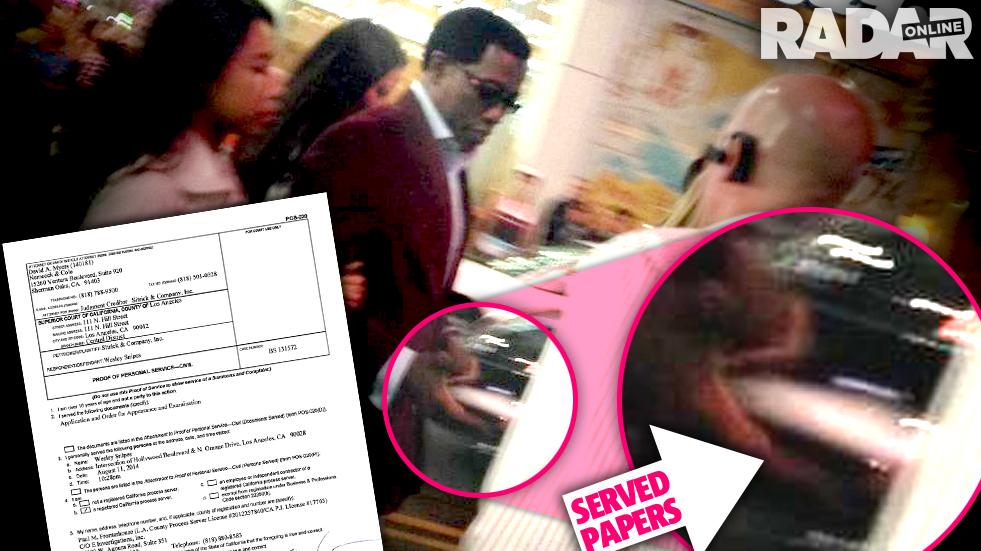 Convicted tax cheat Wesley Snipes was all smiles on the red carpet promoting The Expendables 3 last week in Hollywood. But on the way to the after-party, that smile faded when the former jailbird was served with a notice ordering him to appear for a debtor's examination — and RadarOnline.com has exclusively obtained the embarrassing photo!
Snipes is being sued by famed public relations powerhouse firm Sitrick & Company for failure to pay fees associated with work the group did when the actor was facing felony tax evasion charges.
Article continues below advertisement
Sitrick & Co. filed a lawsuit against the actor , and was granted a judgment, which has now ballooned to more than $103,000.
According to court documents, Snipes must "furnish information to aid in enforcement of a money judgement."
The document clearly states he "may be subject to arrest and punishment for contempt of court, and the court may take an order requiring him to pay reasonable attorney fees incurred by the judgment creditor in this proceeding."
MORE ON:
Celebrity Justice
In 2008, Snipes was convicted of three misdemeanor counts of failure to file tax returns for three years, and cheating the government out of $7 million.
After losing an appeal in 2010, Snipes was sentenced to three years in prison, and was released from a correctional facility in 2013, after serving three years.
Sources familiar with the situation tell Radar, "Wesley never contested any of the bills of fees of Sitrick & Co."
Attempts to reach Snipes for comment were unsuccessful, and Sitrick & Co didn't immediately respond.