Exclusive
'Teen Mom 2' Reunion Drama! Adam Lind Opens Fire On Ex Chelsea & Her Dad Over Claims They Bad-Mouthed Him In Front Of Daughter Aubree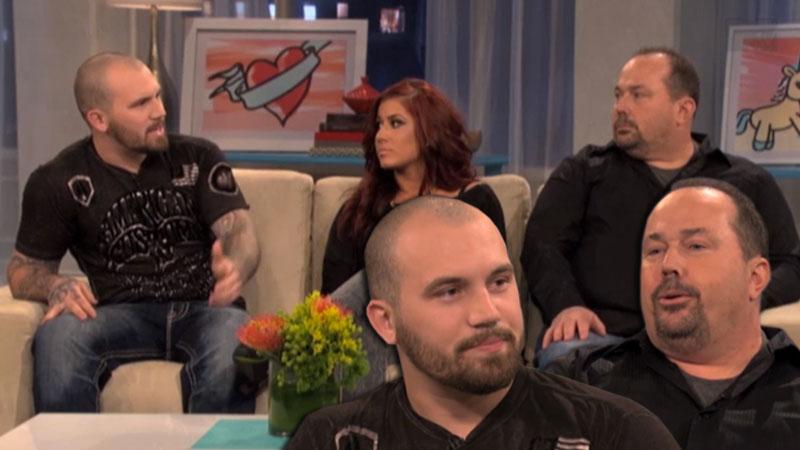 The cast of Teen Mom 2 just wrapped filming the reunion special for the current season in New York City with Dr. Drew Pinsky— and RadarOnline.com has all the details on the fireworks that exploded in front of the cameras.
This time, the drama unfolded between Chelsea Houska's baby daddy Adam Lind, and her father Randy Houska
"The Teen Mom 2 cast just got back from NYC where they filmed the Dr. Drew reunion show this past weekend," a source close to production told RadarOnline.com,
Article continues below advertisement
"While Chelsea Houska didn't fight with her baby daddy/ex-boyfriend Adam Lind, Lind did get into a fight with Chelsea's dad Randy," the source said. "They argued about Adam's Corvette crash."
Randy was hounding Lind about crashing his corvette back in February when he was caught speeding with a revoked driver's license and hit a car driven by an 87-year-old woman. (He was recently released from jail after serving time related to the incident.)
After the crash, "Randy was worried about Adam bringing Aubree Chelsea's daughter with Adam in the car," the source says. "But as the car is a Corvette, Adam would never do that."
But the drama didn't end there.
Adam also slammed Randy and Chelsea for allegedly talking poorly about him in front of Aubree.
"They talk crap about him in front of Aubree," the source claimed. "Chelsea calls Adam a 'piece of s*** father' right in front of Aubree while talking to her dad."
Article continues below advertisement
"This happened at the reunion and also a lot in general outside of filming," the source said. "A lot of people don't always see it."
But, after Adam and Randy got the fighting out of their system, they were able to calm down and act more agreeable.
"Randy and Adam got along fine after that," the source said. "They just argued and they also argued with Doctor Drew."
"It went pretty smoothly after that," a second source confirmed.
Do you think Adam's a good father? Let us know in the comments!