Exclusive
'From Tragedy To Triumph' — Taylor Armstrong Dishes On Wedding Day — Why She 'Freaked Out'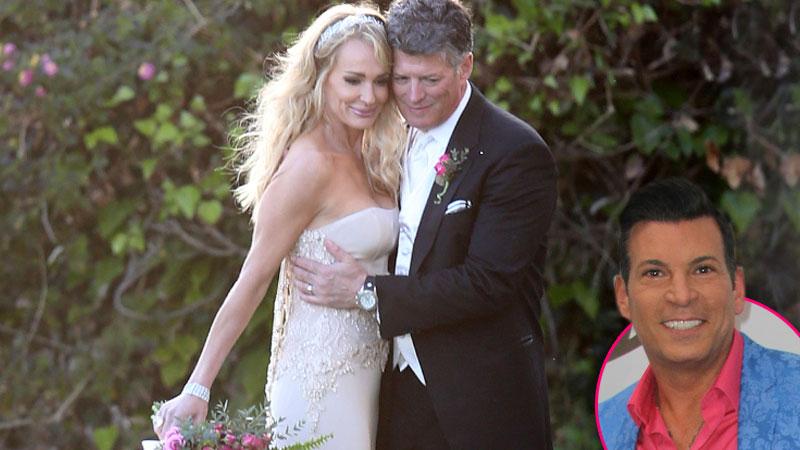 Former The Real Housewives of Beverly Hills star Taylor Armstrong finally got her fairy tale ending on April 4, when said "I do" to her second husband, John Bluher in a magical wedding planned by celebrity party planner David Tutera. From laughter to tears to "freak out" moments, the special day was captured by cameras for the premiere episode of Tutera's new show, David Tutera's CELEBrations, which airs on WeTV tonight. And the trio spoke out to RadarOnline.com with exclusive details about what to expect.
Article continues below advertisement
Radar: What was the hardest part about having David plan your wedding in two weeks?
Armstrong: It was so important to me for everyone to be able to see the transition of my life from my Beverly Hills life to my Colorado life, from tragedy to triumph. And handing it over to someone and saying create this moment for me was necessary because I couldn't create it for myself to be a real translation of what this moment meant. My daughter and I have this whole new chapter and becoming not only John's wife, but us becoming a family was really important. Figuring out how to translate those moments, I needed David.
Radar: Was it hard to balance catering towards your friends versus yourself?
Armstrong: I do have a huge people pleasing aspect to my personality, which is something that I'm working on. But with the wedding, David kept reminding me, "You're the bride. This is your day." But for me it was a day to celebrate with all of the people that had stood by me and all the people that were supporting us going forward and I just wanted it to be a celebration for everyone. It was difficult for me to think about it being my day… but I want it to be about Kennedy and about friends and about John and it was a challenge I think.
Article continues below advertisement
Tutera: She really was sincerely interested in making sure that everybody was happy. Most brides are focused on themselves, so that surprised me about her.
Radar: In the show, you wore two different dresses. What was the deal with that?
Tutera: She freaked out about her dress, which is obviously a real freak out moment…
Armstrong: We dance all the time in the kitchen when we cook and I wanted to be able to dance and my dress had a little bit of a train on it, so the second dress was shorter.
Radar: You didn't get to see your dress till the day of the wedding. What was it like to see your dress for the first time?
Armstrong: That was one of the most overwhelming moments that day because that's a big deal. I needed it to fit, and it was perfectly formed-fitted and it was everything I could have ever wanted.
Radar: What was your favorite part of the wedding?
Armstrong: There were two. Adley Stump, she was on The Voice, I wanted her to sing "Hallelujah" at the wedding — and I got to hold Kennedy's hand when I walked down the aisle. But I think the most amazing moment was when we did vows with my daughter Kennedy.
Article continues below advertisement
Bluher: The best moment for me was: David was like, "Do you guys want to come in and stand at your table and let everyone come in or how do you want it?" I was like, "I want to stand right here and say hello to everyone," which we did and it was really fun. Everyone came in and we got a chance to say hi to everyone and to me that was really special.
Radar: Do you guys have any plans in another ten years to do another big party like this?
Armstrong: Sure, I'd do a party every year. Are you kidding? David and I are besties now.
​
Radar: What was the hardest part about having your wedding filmed?
Bluher: Probably giving up the control on it and knowing she had very definite ideas on what she wanted and really not knowing. I mean obviously David does magic with everything that he works on, but just handing that control over and saying it's your ball… But once I got comfortable with it, it was a blessing.
Article continues below advertisement
Armstrong: I was amazed, David, on top of the fact that he has amazing ideas is that he's just such an incredible listener and that's what I think makes him the expert that he is. We met one time and I showed him a bunch of photos like magazine tear-outs and I was able to say these are all of the things that I like and then he listens so well that he was able to take those ideas and really, truly create exactly what I wanted. It was like he was reading my mind just from one meeting.
Radar: What are your thoughts on David now that it is all said and done?
Armstrong: I love him David. He's amazing. He's part therapist, part event planner!
Catch the show tonight on WeTV at 9/8 central, and watch the preview clip here: