Exclusive
Ri-Jected? Rihanna 'Slighted' By Jay Z After He Flaked On Concert Appearance, Says Source — Inside The Roc Nation 'Drama'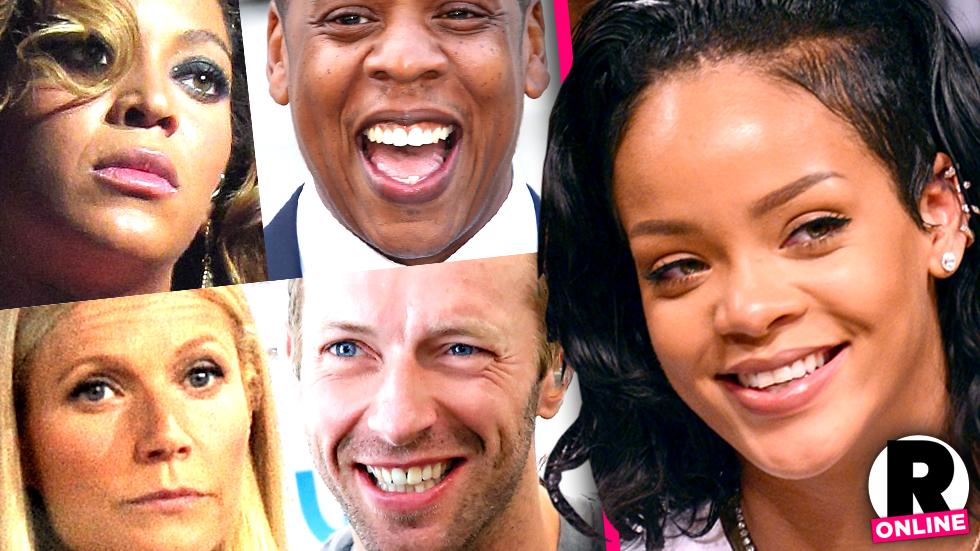 Once the princess of Roc Nation, Rihanna has grown distant from her mentor Jay Z over the years, thanks in part to her on-off relationship with Chris Brown, according to widespread reports. But now, RadarOnline.com has learned, relations between the two have gotten so strained, Beyonce's husband flaked out on a planned appearance at her recent L.A. Concert — even though he'd been expected to attend!
Article continues below advertisement
The "Pour It Up" singer had expected HOVA to attend her show with Eminem at the Rose Bowl earlier this month because he was still in Los Angeles with wife, Beyoncé, following their back-to-back On The Run Tour dates at the venue.
However, even though security had been arranged for Jay Z to go, "he never arrived," a source tells Radar. "Rihanna was extremely surprised and later said she wouldn't be surprised if Beyoncé told him not to go."
"Rihanna is used to being the center of attention of the men in her life," a source tells Radar. "Even though Rihanna is on Jay's Roc Nation label, it was a big slight to her that he didn't show up."
Meanwhile, Jay Z seemed focused on his family Sunday night when he appeared with Beyonce and daughter Blue Ivy at the MTV VMAs.
Earlier this year, divorce rumors about the couple kicked off after the infamous elevator fight between Beyoncé's sister, Solange, and Jay Z, which sources said was about Rihanna.
According to the New York Post Solange became upset after finding out that Jay had planned on meeting up with Rihanna after the Met Gala.
The source said such drama is standard for the Caribbean starlet — and Jay Z isn't the only one she looks to for attention.
"Rihanna also enjoys the lavish attention Chris Martin and Drake give her," the source said. "She is a huge flirt and doesn't have a lot of girlfriends, because of all the drama with the men in her life."