James Foley's Parents Release His Heartbreaking Final Letter, Written In Captivity: Before Being Slain, Journalist Says, 'I Really Feel I Can Touch You Even In This Darkness'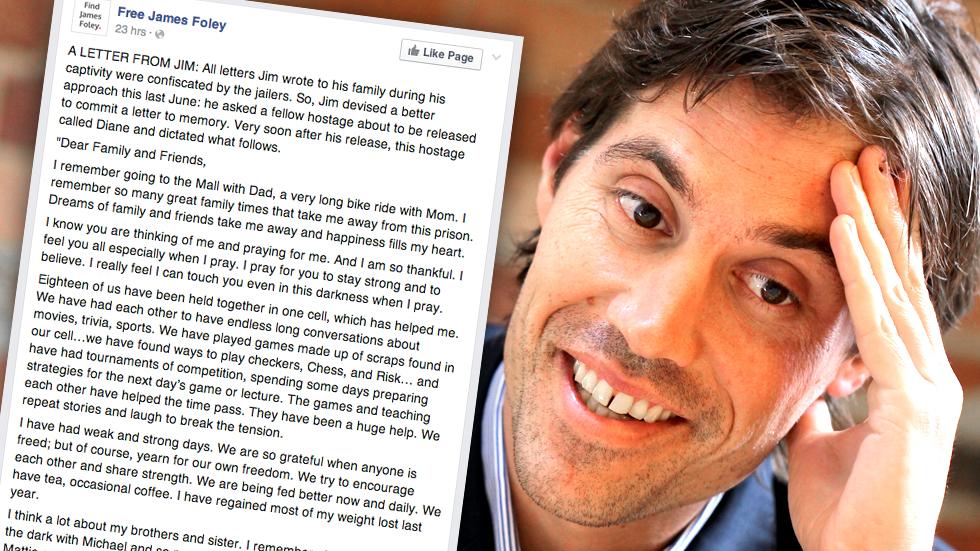 Before he was a tragic victim of terrorist brutality, James Foley was a loving son and brother. Now, his parents are sharing that side of the journalist — who was beheaded by ISIS operatives — by releasing a heartbreaking letter he wrote during his time in terrorist captivity, and RadarOnline.com has the full text.
James' missive recalled happy times with family and friends, shared his feelings while in captivity, and revealed how he and other fellow captives played games to perk up their spirits.
Article continues below advertisement
The letter was posted Sunday on the "Free James Foley" Facebook page after a memorial Mass for James in his hometown of Rochester, N.H.
His parents, John and Diane Foley attached a note explaining that their son, who was beheaded by Islamic State militants, wrote letters which were confiscated by his captors.
But they revealed that Foley asked another hostage to memorize one of Foley's letters and read it to his family after he was released. Foley's parents say that the hostage phoned Diane after his release and dictated James' letter.
Addressing it to family and friends, James recalled, "I remember so many great family times that take me away from this prison. Dreams of family and friends take me away and happiness fills my heart. I remember going to the mall with Dad, a very long bike ride with Mom.
"I feel you all especially when I pray. I pray for you to stay strong and to believe. I really feel I can touch you even in this darkness when I pray," the letter read.
Article continues below advertisement
James disclosed he had had both weak and strong days while he was held with 17 other captives in one cell.
He found strength in the companionship, noting in his letter, "We have had each other to have endless long conversations about movies, trivia, sports." They found ways of using scrap items in their cell to play such games as checkers, chess, and Risk, even having competitive tournaments, James said. "The games and teaching each other have helped the time pass."
James, who was kidnapped in 2012 while covering the Syrian uprising, said his captors were feeding them better than earlier on: They were given coffee and tea, and he had "regained most of my weight lost last year."
But the captive seemed to be worried about his future as he wrote of his brothers, "If there is any money left in my bank account, I want it to go to Michael and Matthew."
Still, the photojournalist also showed emotion and optimism about eventually being released, as his letter ended by addressing his beloved grandmother, "Grammy, please take your medicine, take walks and keep dancing.