Friends, Family And Fans Wear Orange And White To Honor Kevin Ward Jr. At Funeral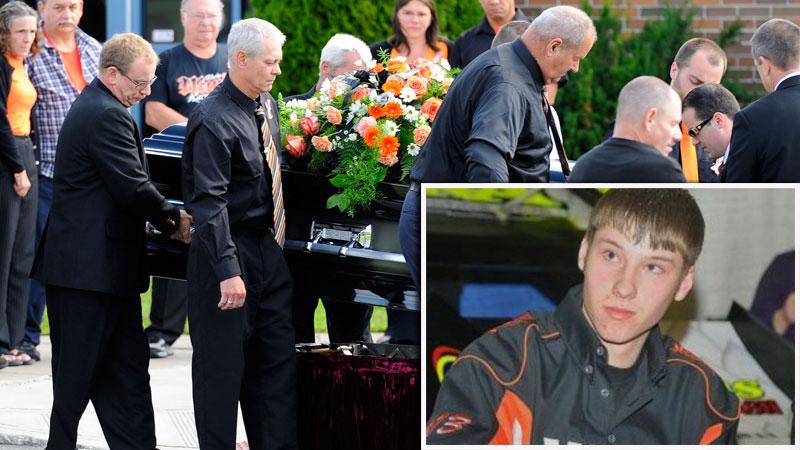 Mourners poured into the 700-seat auditorium at South Lewis Central High School to bid Kevin Ward Jr. one last goodbye Thursday afternoon.
Although friends, family and fans dressed in all black, they also found it in their hearts to wear a little something special – the sprint racer's colors.
"The reason for our orange and white ribbons is to show how bright those colors are. Kevin's colors," Kayla Herring, Ward's sister, told reporters. "And even against black, orange and white shine through."
Article continues below advertisement
As the Dixie Chicks' "Godspeed (Sweet Dreams)" played through the school's speakers, Herring made an emotional speech about her late brother while trying to hold back tears.
"If there wasn't a dirt track in heaven before, there sure is now," she said. "From all of us, Kevin, please watch over us. Drive fast. Turn left and Godspeed. You will never be forgotten."
There was no mention of Tony Stewart during the funeral.
Ward died Saturday night in a tragic accident during a race at Canandaigua track. After Stewart bumped Ward's car, causing him to swerve into the wall, Ward can be seen in a video getting out of his vehicle and walking onto the dirt track while angrily gesturing at his fellow driver.
The three-time Sprint Cup champion clipped Ward as he drove by, killing the 20-year-old driver.