Something's Frozen In Jersey? JWoww Says She'd Use Botox, Consults RHONJ Ladies' Doctor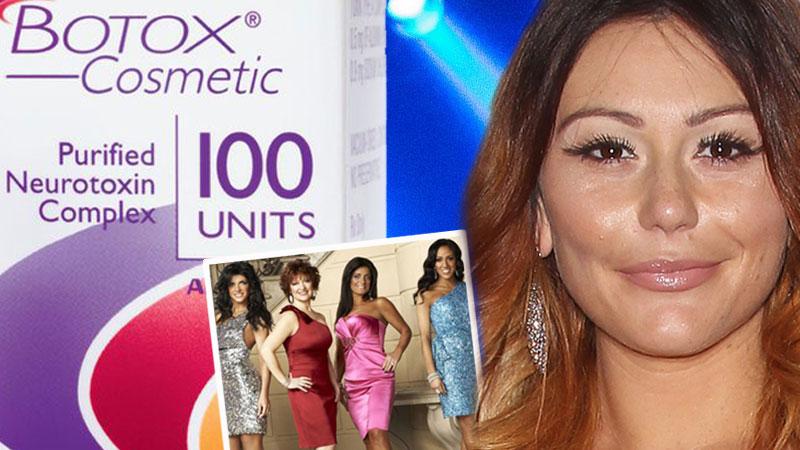 Is there something frozen in Jersey?
JWoww has admitted she would use Botox – and said she's even consulted the doctor who's been treating the ladies of The Real Housewives of New Jersey!
When asked about Botox, the famed injectable toxin which paralyzes wrinkles, JWoww, aka Jenni Farley, said she "totally" would welcome it.
Incredibly, the 28-year-old reality beauty, born Jenni Farley, said, "I'm getting up there in age – I'm about to be 30. I don't like wrinkles. But I wouldn't go overboard and get that frozen face when you're trying to cry and look like you're smiling."
Article continues below advertisement
JWoww said after having daughter Meilani last month, she's getting back into shape: " I want to get rid of all my jiggly-ness—and my girlfriends from The Real Housewives of New Jersey introduced me to their doctor," she told People. "He's really good at doing microderms and skin tightening."
However, JWoww might want to rethink her role models. As RadarOnline.com readers know, the RHONJ stars have been roundly slammed for their obvious plastic surgery.
And while JWoww hasn't confirmed actually using Botox yet, the Jersey Shore star was recently photographed looking like she'd had major changes made to her face.
Top docs told RadarOnline.com that JWoww appeared to have had fillers or injections in her cheeks.
"Wow! JWoww appears to have a pillow face. Her cheeks look overly plumped, as if they've been stung by a hive of bees," Dr. Anthony Youn, who has never treated the star, told RadarOnline.com.
Article continues below advertisement
"I suspect that she may have undergone injections of filler into her cheeks, making her look completely different than the JWoww we used to know. She may also have undergone Botox injections, causing her eyebrows to change shape and the wrinkles of her forehead to smooth," Dr. Youn said.
The first-time mother, who is engaged to baby daddy Roger Matthews, has been open about plastic surgery in the past, revealing breast implants she got for her 21st birthday. But when it comes to her face, it's a different story.
On Friday, in responding to RadarOnline.com's report about her pillow faced look, JWoww posted a makeup-free photo of herself on Instagram. She captioned it, "Very flattered RadarOnline.com online that u think I had all that work done but I'm just a plain jane mom with wrinkles without makeup…"
JWoww also recently denied having plastic surgery to In Touch.