Exclusive
Still Not Over Brad? Jen Aniston Bans Interviewer From Asking Questions About Her Ex!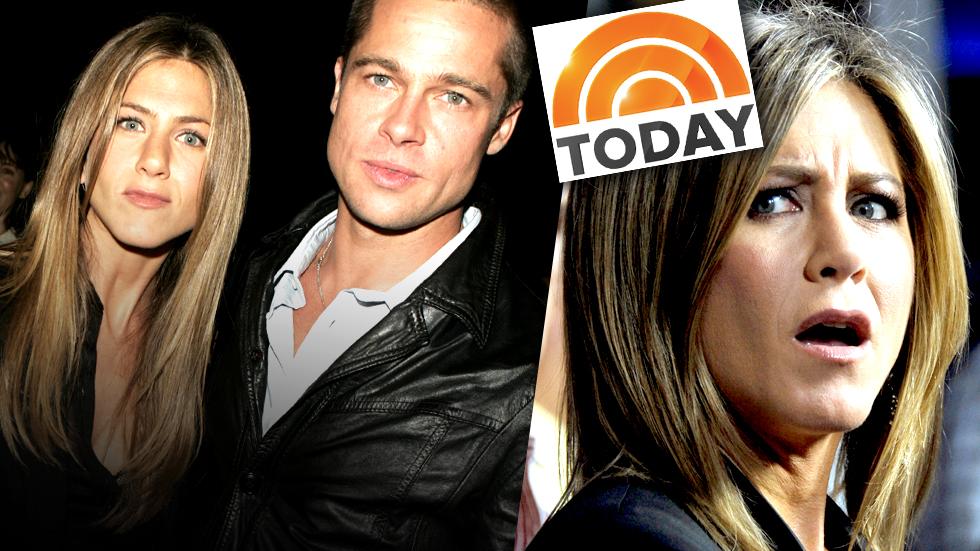 The timing couldn't be worse. As Jennifer Aniston's new movie, Life of Crime, premieres today, the world is abuzz with the news that her ex-husband, Brad Pitt, has married the woman he left her for, Angelina Jolie. But while Aniston does interviews and appearances to promote the flick, RadarOnline.com has learned, she's not exactly looking forward to offering the couple her well-wishes: In fact, according to one source, she banned any mention of Brangelina from a recent interview!
Article continues below advertisement
Aniston recently sat down with Carson Daly for a TODAY show interview from the Four Seasons Hotel in Beverly Hills.
And before the interview even took place, "there were very strict guidelines about what could be asked," a source told Radar. "Carson had to agree not to ask any questions about ex-husband, Brad Pitt or when she would be getting married to Justin Theroux."
"Her publicist wasn't happy that Carson got in a question that led Jen to talking about marriage and children in general. They also had to agree not to show any past footage of Jen with Brad," the source continued.
During the interview, Aniston told Daly, "I don't have this sort of checklist of things that have to be done, and if they're not checked , then I've failed some part of my feminism or my being a woman or my worth and my value as a woman because I haven't birthed a child," echoing the sentiments she'd previously expressed in a chat with activist Gloria Steinem this past February.
Had the interview taken place just a few days later, it would have been under the shadow of Pitt and Jolie's wedding news.
Article continues below advertisement
"It would have been the big elephant in the room," the source said. "Jen must be extremely grateful or lucky it went down when it did!"
In the end, according to the source, "Jen was extremely professional during the interview and was extremely nice to everyone. She is always a pro, but her publicist makes sure no one steps out of line, and says something inappropriate that could upset her," especially when it comes to her ex!
A rep for the TODAY show told Radar, "There were absolutely no conditions or restrictions agreed to or made by anyone...the interview covered a wide range of topics from her career to marriage and motherhood, and it made headlines everywhere."