Did Gang Members Try To Murder Chris Brown In Party Melee? Cops Investigate As Reports Claim Singer Had Troubling Ties That May Have Led To Club Shooting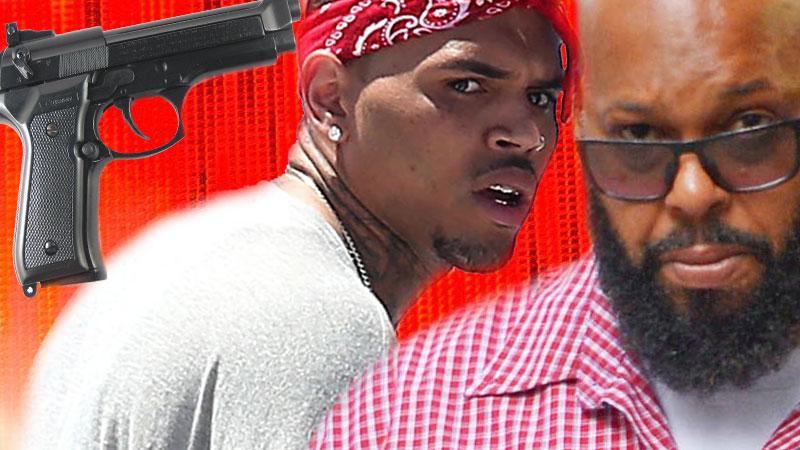 Did gang members try to murder Chris Brown at his party?
That's what cops are reportedly investigating as information about the bizarre shooting at Brown's pre-VMAs event at 1OAK club in West Hollywood gets even deeper.
According to MediaTakeOut.com sources, eyewitnesses at the club said things went south "when a group of men tried to murder Chris Brown."
MediaTakeOut quotes a source as claiming ever since Brown got out of rehab he's changed his lifestyle and his friends.
Article continues below advertisement
The source said, "Chris used to run with a bunch of gang bangers who were really scary. When he got out of rehab, he cut them all off. I guess they're UPSET about that."
The website said sources claimed Brown was being threatened by his former gang member friends, who had tried to extort money from him. Then early Sunday morning at his party, they fired shots the singer's way but missed.
Rap mogul Suge Knight , however, was hit multiple times and is being treated at Cedars Sinai Medical Center in Los Angeles.
Other reports have claimed eyewitnesses saw Brown allegedly throw up gang signs before the shooting and he was performing with a red bandana -- which is the way Los Angeles Bloods gang members are often identified.
Also, the rapper Game, who got into a scuffle outside the club before the shooting after he was denied entry, grew up as a member of the Bloods.
And music producer Knight is known to have affiliation with the Bloods.