Chelsea Handler Ends 7-Year 'Chelsea Lately' Run With Intervention, Surprise Guests & A Star-Studded Sing-Along During Finale Special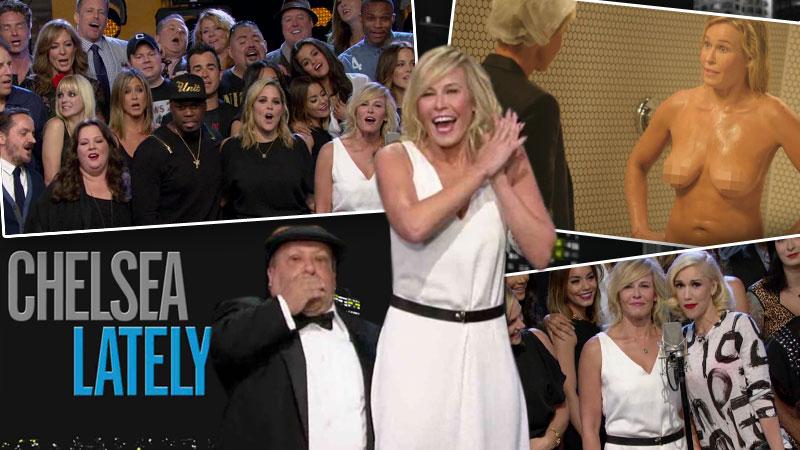 After seven years of laugh-out-loud jokes, hilarious celebrity interviews and feud-starting quips on Chelsea Lately, host Chelsea Handler is packing her bags and heading to Netflix.
And on Tuesday, Handler celebrated the end of the show with a live finale special that featured everyone from Sandra Bullock to ex-boyfriend 50 Cent.
"Tonight we are wrapping up seven years of ridiculous stupidity. I am very impressed with myself. Way to go girl," the comedian said while patting herself on the back. "The only other time I spent seven years in one place was in high school!"
Article continues below advertisement
The show kicked off with a skit explaining Handler's last day at E! studios. While showering naked, a fully-clothed Ellen DeGeneres confronted the talk show host about why she was never asked to be a guest on the show.
Handler responded, "Because I didn't think you liked me. Nobody likes me. You're Ellen, everybody loves you."
DeGeneres replied, "There are people who like you."
When Handler asked, "Who?" DeGeneres didn't know what to say, and instead said, "Is it because I'm a lesbian?"
"No, I didn't even know you were a lesbian -- I thought you were married to Ryan Seacrest," Handler joked.
Watch the video on RadarOnline.com:
Later in the show, Handler's best friends Mary McCormack, Sandra Bullock and Jennifer Aniston stopped by. Instead of wishing their friend good luck, the actresses sat down with Handler to give her an intervention.
McCormack began by bringing up her binge drinking: "I urge you to get help. If you have to tell the world that you're 'going to Netflix' for a little while, I think everyone will understand. Netflix is a wonderful facility where you'll be able to get all the help you need."
Aniston, on the other hand, explained how she misses the "old Chelsea."
"The one that I used to find naked in my own lawn chair after she fell asleep with the sprinklers on with little Chuy on her back," said Aniston. "We need you to be the best broken Chelsea you could possibly be!"
Bullock ended the intervention by saying, "I learned something so important today and it's that you're not funny … I think you are one of the most unhip people I ever met.
"There was one time in your life when you were somewhat cool way back in the day, but you kind of blew that one. And you know I'm talking about when you let this one go," Bullock said as she went backstage and brought out Handler's ex-boyfriend 50 Cent.
50 Cent and G-Unit were the first performers of the evening, as Miley Cyrus soon followed with a cover of Roy Orbison's "It's Over."
The finale special wouldn't be complete without a goodbye from sidekick Chuy. He bid Handler farewell with a video collage of their top moments from the show.
He said in the video, "Miss Chelsea, I love you from the bottom of my heart. You changed my life... Thank you Miss Chelsea."
A teary-eyed Handler responded to his heartfelt message with, "I love you so much because everyday no matter what kind of mood I've ever been in, when you see this coming towards you in a hallway or a dark parking garage all you could do is be happy."
The show ended with Fergie, Selena Gomez, Vanessa Hudgens, Leah Remini, Gerard Butler, LeAnn Rimes, Chloe Mortez, Joel McHale and more celebrities joining together to sing goodbye to the late night host.
Gwen Stefani even laughed at herself by introducing Handler as Chelsea Hammer, a quip at her Emmys flub.
Avril Lavigne sang, "She can't go on, faking everyday that she cares about Kim and Kanye," as the whole group sang in unison, "Goodbye to E! it's time to move on. She wants to sing she wants to dance and get her groove on!"
After the hilarious group performance, Handler ended the finale with words of gratitude.
"Thank you to every single person who showed up for me today," she began. "I am really, really appreciative that I've been given this opportunity by E! that I had this show that is so much fun for me. I want you to know that I am grateful for this career.
"Thank you very much. I'll see you on Netflix!"
Watch the video on RadarOnline.com: