Exclusive
Friends No More? Jennifer Aniston Dumps Courteney Cox In Favor Of New BFF Chelsea Handler — So Who Will Be Maid Of Honor?!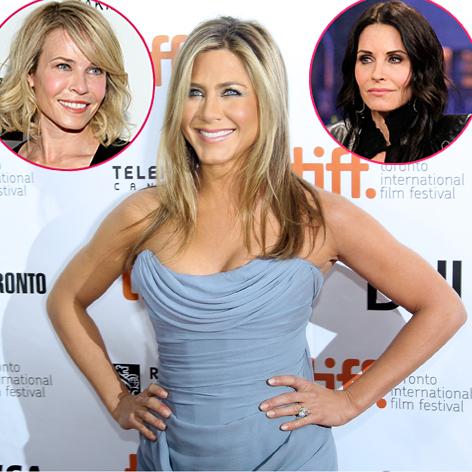 Jennifer Aniston and Courtney Cox might not be best Friends forever after all, RadarOnline.com has exclusively learned.
The duo who have been close pals for years are on the outs, and now Aniston has a new BFF, talk show hostess Chelsea Handler, a source told Radar.
Aniston, 45, is tired of Cox, 49, urging her to get pregnant and would rather hang out with her fun friend Handler, 39. And she's even reportedly considering making Handler one of her bridesmaids instead of Cox for her upcoming wedding to Justin Theroux!
Article continues below advertisement
According to a longtime mutual pal of Aniston and Cox, "Courtney has been pushing Jen to get pregnant for years! She's given Jen non-stop baby and pregnancy advice, and Jen is sick of it. She doesn't want a friend who's a total know it all. She'd much prefer to spend her time with someone like Chelsea, who would never tell her what she should or shouldn't do."
The Chelsea Lately talk show hostess has never been married and, like Aniston, doesn't have kids. Cox, the ex-wife of David Arquette, loves her role as mother to their daughter Coco, 9.
Meanwhile, the source said Cox doesn't approve of Aniston's friendship with the bawdy E! comedienne.
"Courteney can't stand Chelsea. Courteney thinks she loud and crass--while Jen thinks Courteney is taking things too seriously and is acting like a jealous teenager. It's gotten to the point where neither one of them wants to make the effort to keep the friendship going."
The source revealed Cox didn't even invite Aniston to her birthday party last year: "That's how far apart they've gotten. It was beyond weird that Jen was left off the list because so many of their mutual friends were there, like Laura Dern which just goes to show that these two are nothing like they were."
Article continues below advertisement
While Cox did attend Aniston's holiday party last December, the source said, "It's really sad but the friendship has basically evaporated."
And it's been a long time in coming as the pal revealed tension surfaced way back when Courteney split up from husband Arquette in October 2010 and then allegedly was involved with her Cougar Town co-star, Brian Van Holt.
"Jen has always loved David so much and she felt that Courteney was horrible to him by taking up with another guy so soon," the source told Radar. "She was really disappointed at how cruel Courteney was and she couldn't help but take David's side, which obviously did not go over well with Courteney."
Arquette told Howard Stern in a 2010 interview just after his separation from Cox that she was having an "emotional affair" with Van Holt, while Cox called the Cougar Town actor merely a "really good friend." But the Scream star, whose divorce from Arquette was final in May 2013, reportedly dated Van Holt and then broke up with him last year. She's since found a new boyfriend, Snow Patrol rocker Johnny McDaid. Meanwhile, Arquette just had a baby boy with his girlfriend, Christina McLarty.
Article continues below advertisement
Unfortunately, the love-go-round has driven a wedge between Aniston and Cox, the source revealed. "Since his split from Courteney, David's been on a roller coaster ride with his alcohol problems. Jen was relieved when he started dating Christina, but Courteney managed to turn that situation into a nightmare. Courteney was incredibly rude to Christina and made things extremely difficult. Jen actually had to step in and give Courteney a wake-up call that Coco needed to have a happy dad and that it was time to set David free.
"It remains to be seen how all this will affect Jen's wedding party!"