Exclusive
She Put A Ring On It — Literally! Charlie Sheen's Porn Star Fiancée Brett Rossi Has Actor Wearing A 'Man Engagement Ring'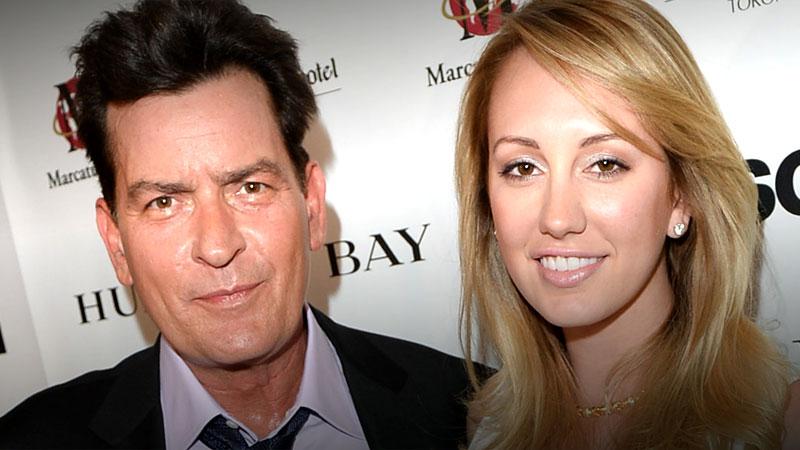 Charlie Sheen and porn star fiancé Brett Rossi aren't scheduled to get married until later this year, but the adult film actress is forcing the Anger Management star to wear an engagement ring to send the ladies a clear message: The wealthy actor isn't a freewheeling bachelor anymore.
Sheen has been wearing a "man engagement ring" ever since asking Rossi to marry him earlier this year, an insider told RadarOnline.com.
Article continues below advertisement
"Brett forced Charlie to wear the wedding band, which he is wearing as an engagement ring," the source told RadarOnline.com. "Charlie continues to hang around with other women, which infuriates Brett. It's disrespectful to their relationship, and Brett wants to make it clear that Charlie is off the market."
The source added that the Major League star's longtime pals "think it's absolutely pathetic the lengths that he will go to just to for Brett."
"She has taken over his life," said the source, "and his crowd thinks he has lost his b*lls!"
As RadarOnline.com previously reported, Rossi has turned into a virtual "Bridezilla" planning their upcoming wedding.
"Charlie had asked Brett to hire his friend, a small time party planner to handle their wedding," a source revealed. "In the beginning, Brett agreed, just to make Charlie happy, as he was trying to give the guy some business."
Article continues below advertisement
"But when it became clear to Brett that he couldn't deliver the over-the-top wedding of her dreams, he was fired," the source claimed.
Rossi, according to an insider, wants "a big-name celebrity wedding planner" to bring the two publicity, hoping it will result in "a celebrity weekly magazine producing a full-length feature on the ceremony and reception."
Sheen will be making his fourth trip down the aisle on Nov. 22; Rossi has also been married before, and her divorce was recently finalized .
Sheen's friends point to "Brett calling Charlie her husband, and referring to herself as Mrs. Sheen" as cause for concern, the source told RadarOnline.com.
"They have tried to warn him about Brett, but Charlie just shuts them down," the source added. "It's just creepy and weird that she is doing that before they are even married."
Stay with RadarOnline.com for more on Sheen's wedding as news breaks.